Living at Amelia National Golf and Country Club means never having a shortage of activities.  We don't mean washing cars or mowing lawns.
We mean recreational options in your own exclusive, gated community — a Tom Fazio-designed golf course. A tennis club. A resort-caliber pool.  But, since you're only a short drive from beautiful Atlantic Ocean beaches, and your slice of northeast Florida is rich in history, excursions await! Try these local bucket-list favorites.
A Day at Fernandina Beach
This small city began as a Spanish mission in 1573. It's weathered wars, pirates, plunder and eight different governments.  The Victorian-Era business district along charming Centre Street is only 10 minutes east of Amelia National. Perched near the northern tip of Amelia Island — Florida's northernmost barrier island — Fernandina Beach is packed with cafes, bars, art galleries and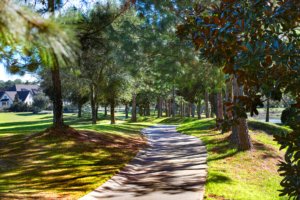 browser-worthy shops.
Fernandina Beach: Amelia National's Hometown
Need food suggestions? Try the Salty Pelican Bar and Grill on North Front Street, facing Fernandina Beach's waterfront. Watch sunset at Brett's Waterway Cafe, which overlooks the Amelia River and the Fernandina Beach Marina. Or, detour to Joe's 2nd Street Bistro, located in a 19th-century home a half-block from Centre Street. Back on Centre Street, choose homemade candy or ice cream at Fantastic Fudge.
Guard the Coast at Fort Clinch
Actually, it's a 1,100-acre Florida state park that incorporates a circa-1847 fort. You can find Fort Clinch State Park only three miles north of Fernandina Beach's historic downtown, at the northern tip of Amelia Island, and there's no shortage of things to do here, either.
The U.S. Army built the existing fort to guard the entrance to the Cumberland Sound, off the St. Mary's River, which serves as the border between Florida and Georgia. Fort Clinch is shaped like a pentagon and has been restored to reflect its Civil War role as a Union-held site in 1864. Today, re-enactors illustrate mid-19th-century military life. Away from the fort, you'll find the beach and all its accompany facilities (showers, restrooms), two campgrounds, a hiking trail and fishing from the park's pier.
Meet Giraffes and Rhinos on a Conservation Tour
White Oak Conservation, a 13,000-acre tract along the St. Mary's River, is only 34 minutes north of Amelia National. It exists on land that once supported an 18th-and-19th-century timber and rice plantation, and now is home to 35 species of threatened and endangered animals.
Philanthropist Howard Gilman founded the conservation program in 1982 (his family had purchased the original 7,400-acre White Oak property in 1938). Visitors can experience it via several tours of varying length and detail, or participate in a Conservation Caretaker Experience by helping White Oak's animal caretakers do their fun-but-sometimes grimy work for a day.  Anybody game for feeding giraffes? Shooting video of baby rhinos?
If a new Florida home is on your bucket list, ICI Homes can help. Click here to get started.