Living at Amelia National Golf and Country Club near Fernandina Beach, Florida means you have a complete schedule of activities in your own backyard. There's 18 holes of golf designed by renowned course architect Tom Fazio. An eight-court tennis club featuring the latest player-performance technology. Social and dining fun at the Amelia National clubhouse — a French Provincial jewel buttressed by a sparkling pool.
Why would you want to leave? To go to the beach! To beautiful Amelia Island and its historic town of Fernandina Beach, where you can hoist a sail, a wine glass, shopping bags or a fork-full of delicious local cuisine. We'll take you there.
History and Architecture
Only 10 minutes east of Amelia National, Fernandina Beach sits at the northern tip of Amelia Island. Colonial exploration began in this area in the 1500s and its deep-water harbor off the Amelia River has been contested by pirates, French, English and Spanish forces. Eight different flags have flown over this place!
Today's town of Fernandina Beach is known for its Victorian Era architecture and it has more than 50 blocks are designated as a National Historic District, but it's hardly stodgy. Many vintage structures still thrive as private homes, bed and breakfast inns and museums. These homes also house restaurants, shops, businesses or art galleries.
Eat and Drink
You have many choices including Centre Street is the commercial heart of Fernandina Beach, bordered by old oaks, palms, buildings and landscaping. It ends at the river and offers angled parking and bike racks. Pick your spot and cuisine, and enjoy. Fernandina Beach is the birthplace of the modern American shrimping industry, so you know fresh, wild Florida shrimp will be on many menus.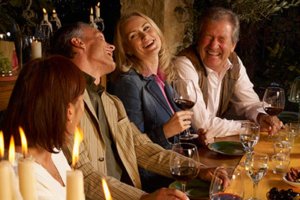 Afterward, grab an ice cream cone and find a bench from which to people-watch.
Festivals, Museums and Other Fun
The Eight Flags Shrimp Festival takes place the first weekend in May and draws thousands of celebrants. Fernandina Beach also hosts free concerts once a month from April through October.
Other options include a horse-drawn carriage ride, or a sunset cruise on the Amelia River. Ghost tours of historic Fernandina Beach landmarks, or a day at the circa-1847 Fort Clinch just north of town. Don't forget the annual Petanque America Open at the waterfront (think of Petanque as a French twist on Italian bocce, or even curling).
If you're a car enthusiast, don't miss the Amelia Island Concours d'Elegance, an annual assemblage of historic automobiles each March and definitely visit the Amelia Island Museum of History on Third Street.
The Beach
Head east a few miles away from the town of Fernandina Beach on A1A; it's a quick drive or bike ride. Once you spot the Atlantic, you have 13 miles of beach to explore and more than 40 accesses to take you there. Pick your favorite and settle in. Don't forget the sunscreen.
Ready to enjoy the Amelia Island lifestyle? ICI Homes (we're Florida's Custom Home Builder), and we can help with the perfectly-situated Amelia National. Click here to learn more about Discovery Tours, where you can try before you buy!