When you live in an amazingly beautiful place like northeast Florida, sunset-watching every day can become a favorite tradition. A new custom Florida home at Amelia National Golf & Country Club provides the perfect front-row seat.
This master-planned community tucked amid coastal forests and glistening ponds happens to be only minutes west of Amelia Island and the historic town of Fernandina Beach.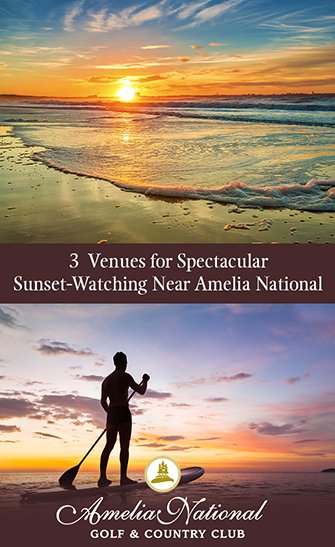 Both are some of Florida's most sought-after destinations, and you're only a hop, skip and jump away from enjoying sunset-watching amid the backdrop of those natural resources.
Of course, the perfect place to enjoy a sunset might be the outdoor living area of your Amelia National home. Set the lounge or rocking chairs, secure an accompanying beverage, then watch the sun go down over your backyard or swimming pool.
Depending on your view, it might sink behind a section of the Tom Fazio-designed golf course. A walk by the lake near Amelia Island's private, gated entrance offers another sunset location.
But, since Amelia National is so close to the Atlantic Ocean and Intracoastal Waterway, it's nice (and jaw-dropping) to witness a sunset from different surroundings.
Here are some suggestions.
The George Crady Bridge
This one's a quick drive south down A1A, Florida's Atlantic coast highway, on Amelia Island, only minutes from Amelia National. Your destination is the George Crady Bridge Fishing Pier State Park — a retired highway bridge over the Amelia River that's a pedestrian fishing paradise.
The Crady's circa 1990s replacement bridge stands beside it, funneling vehicular traffic north and south. You want to walk on the historic George Crady Bridge to enjoy amazing sunset views framed by Nassau Sound and endless marshes to the west.
People doing some late-day fishing provide additional entertainment!
A sunset-watching cruise or paddle
Getting on the water is a top choice of seasoned sunset viewers. With all the nearby rivers, creeks and estuaries, finding a launch isn't difficult if you own a boat or personal watercraft.
If you don't, take a sunset cruise on a commercial vessel, or book a kayaking, canoeing or paddle-boarding sunset experience with a local outfitter. Any west-facing dock, marina, or restaurant with outdoor seating provides an exertion-free sunset by the water.
As they say, the best boat is a friend's boat. Speaking of boats…
The Fernandina Beach Marina
The recently remodeled Fernandina Harbor Marina boasts new infrastructure and docks, and is open to visitors.
It forms the watery boundary of historic downtown Fernandina Beach. Walk the nearshore docks, the new all-access gangway to the outer dock, and admire boats and yachts from all over the world.
The outer dock is the place for unobstructed, spectacular sunset-watching over the Amelia River. Afterward, grab food and drink at downtown establishments.
Ready for your Amelia National lifestyle? Talk to ICI Homes here.