Love your new custom Florida home at Amelia National Golf & Country Club, but hankering for some serious fishing grounds?
Much wildlife abounds at this gated enclave only 10 minutes west of Amelia Island and 30 minutes north of Jacksonville, but if you're looking to hook dinner, or a trophy, you'll have to leave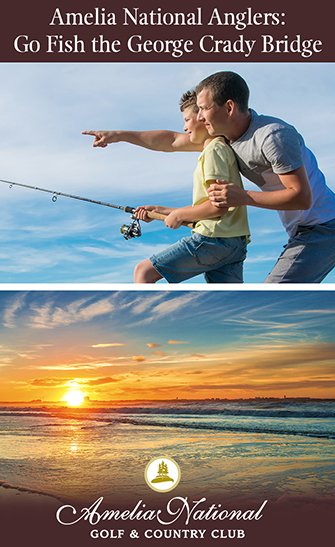 Amelia National.
Fishing in the Sunshine State is an angler's dream. So many people move here to take it up, indulge their favorite outdoor hobby, or become involved in a local fishing group.
Almost endless saltwater and freshwater opportunities abound near Amelia National, but we're going to point you somewhere unique — the George Crady Bridge Fishing Pier State Park.
It occupies an old highway bridge that's been transformed into a fishing paradise. There's room for everyone along its mile-long expanse, and all the comfort facilities you need are on site.
Here's how to fish the George Crady Bridge.
An easy angling excursion
This watery state park is located approximately a half-hour and 16 miles from Amelia National.
We point you to a neighboring state park — Amelia Island State Park — in another blog, and you'll follow the same directions to reach the George Crady Bridge.
Go east on State Road 200 toward Fernandina Beach. Take Amelia Island Parkway south. At its intersection with Buccaneer Trail, take Buccaneer Trail. The latter connects with A1A a bit further south, so stay on A1A. You'll soon see Amelia Island State Park, which is the access point for the George Crady Bridge Fishing Pier.
The bridge spans the Nassau River and Nassau Sound, connecting Amelia Island to Big Talbot Island State Park to the south. Small entrance fees to both Amelia Island State Park and Big Talbot Island State Park guarantee pedestrian access to the George Crady Bridge.
A beautiful, historic fishing hole
The circa-1948, mile-long bridge is paralleled by its modern four-lane counterpart — the A1A bridge — that opened in 1999. Then-state legislator and angler George Crady championed the old bridge as a public fishing pier. It was transformed into a pedestrian-only destination as one of the seven state parks that comprise the larger Talbot Island State Parks.
At the north end of the bridge, you'll find wheelchair access, the On the Line Bait and Tackle shop, restroom facilities and an outdoor shower. A cleaning station also is available.
FYI: you will need a saltwater fishing license. If you don't have one, start the process at the Florida Fish and Wildlife Conservation Commission website.
Once that's in hand, round up friends, pack snacks, drinks, sunscreen and your fishing gear, and enjoy your day casting and ogling at surrounding wildlife.
Amazing sunrises happen to the east, over the Atlantic Ocean, and sunsets to the west, over Nassau Sound.
Go fish!
Ready for your Amelia National lifestyle? Talk to ICI Homes here.