Whether you already enjoy the active lifestyle at Amelia National Golf & Country Club, or are considering it, we're here with another outdoor resource to explore in this corner of northeast Florida.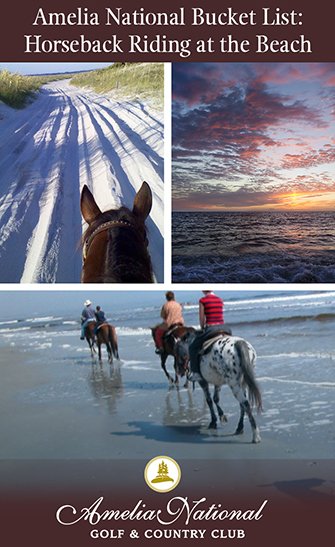 Amelia National is only minutes from Amelia Island, one of Florida's most sought-after destinations. If you haven't explored Amelia Island State Park at the island's southern tip, you're missing a great day excursion and some amazing natural terrain almost in your own backyard.
And horseback riding on the beach! More below.
Your new custom home at Amelia National isn't far from Amelia Island State Park — only 16 miles and approximately a half hour — so pack the swimsuits, beach towels, food, drink (and sunscreen) and off you go.
Where's Amelia Island State Park?
Head east on State Road 200. Once you approach the city limits of historic Fernandina Beach, look for the intersection with Amelia Island Parkway and turn right.
You'll wind around the Fernandina Beach Municipal Airport. Eventually, Amelia Island Parkway forks east and Buccaneer Trail forks southwest. Stay on Buccaneer Trail. Soon, you'll reach an intersection with A1A, Florida's Atlantic beach-side highway.
Buccaneer Trail becomes A1A. Stay on it and follow A1A south past American Beach, a historic community in African-American culture. Continue on through the Franklintown community. Begin looking for Amelia Island State Park signs. Once you reach the end of the island, you're there.
How to enjoy Amelia Island State Park
As outdoor fun goes, it's almost better to ask what you can't do.
The park's pristine 200 acres supply some of almost everything, including marshes, creeks and rivers for kayaking and canoeing, miles of paved and off-road trails for cyclists, an eastern hot-spot along the Great Florida Birding and Wildlife Trail, fishing in nearby Nassau Sound, shelling, and, of course, miles of unspoiled, natural beaches.
And, an equestrian trail. Speaking of…
Go horseback riding at the beach
Sanctioned by the Florida State Parks system, Kelly Seahorse Ranch is located on Amelia Island State Park property, nestled in its maritime forest.
Ranch personnel offer guided trail rides daily, although seasonal weather can be a consideration (call the ranch office for updates). Your trusty steed will transport you through a forested trail to the beach, where your and your small group of fellow adventurers will ride amid surf and sand, under the watchful support of ranch guides.
This isn't a galloping affair. (Walking pace only.) Make sure you're up for the physical exertion of riding a horse!
Check the ranch's website for further safety details, but the opportunity to ride along Amelia Island beaches at sunrise, sunset or other time of day, probably is bucket-list material.
Just south of Amelia Island State Park — as you cross a bridge (and Nassau Sound) from the island — lies another local outdoor jewel. But we'll "tackle" that one next time…
Ready for your Amelia National lifestyle? Talk to ICI Homes here.
(Horseback photos courtesy of FloridaStateParks.org)