Looking for a fun winter activity in northeast Florida? If you're a resident of Amelia National Golf & Country Club, we at ICI Homes have a suggestion — Amelia Island's 14th annual Restaurant Week.
A tasty food festival could be the perfect way to celebrate the region's splendid cooler weather.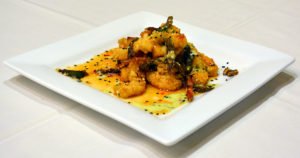 Use these shorter, yet still-sunny days to chow down and sip up at some of your favorite establishments. Or, expand your palate by discovering new ones.
But don't delay! This year's Amelia Island Restaurant Week takes place January 21-30, 2022. Get the deets from your fave place or on Amelia Island's website. In the meantime, here's more on starting the new year with Amelia Island's Restaurant Week.
Surrounded by scrumptious
Amelia National residents have their own Restaurant Week-caliber dining available right at home. This master-planned community is northeast Florida's standard in master planning, and one of ICI Homes' top properties.
Its amenities included gated access, a Tom Fazio-designed golf course, tennis complex and a French Provincial clubhouse that anchors a resort-style swimming pool and sun deck, fitness center and — you bet — a thriving social and dining scene for residents.
When it's time for culinary adventures, head 10 minutes east to Amelia Island and Amelia National's hometown, historic Fernandina Beach. Many of the 25 restaurants participating in the 14th annual Restaurant Week are anchored around the town's picturesque streets and Fernandina harbor. Sample menus and $15 lunches prepared just for the occasion, including three special-event dinners that do require tickets and reservations.
This part of northeast Florida is known as the "birthplace of the modern shrimping industry," so you know to expect delicious takes on this favorite seafood, along with other shellfish and fish dishes. It's also home to Florida's oldest bar — the Palace Saloon — on Centre Street in Fernandina Beach.
Design your own Restaurant Week
Can't participate in January's festivities? Never fear. Although you might have to wait until next year to enjoy Restaurant Week's special events and menus, a yummy visit to any Amelia Island/Fernandina Beach eatery can be enjoyed almost any day of any week.
Visit one of Restaurant Week's participating establishments on your next date night or for a special celebration. Another possibility? Local food tours. These organized excursions take you to restaurant and beverage destinations in and around Fernandina Beach, with a focus on the area's history, culinary specialties, and the talented personnel who create them.
Prefer a do-it-yourself approach to Restaurant Week or local food fun any time of the year? Circle up Amelia National friends and neighbors and design your own restaurant tour.
And, don't forget that Amelia National's hometown of Fernandina Beach hosts many popular festivals that spotlight the region's cuisine. Mark your calendars now for the Isle of Eight Flags Shrimp Festival, the Amelia Jazz Festival and Dickens on Centre, among others.
Ready for your Amelia National lifestyle? Talk to ICI Homes here.