One of the best aspects of pursuing a new custom Florida home is the ability to zero in on an architectural style. At Amelia National Golf & Country Club in Fernandina Beach, we offer an intriguing possibility from the moment you enter its gated driveway — French Provincial.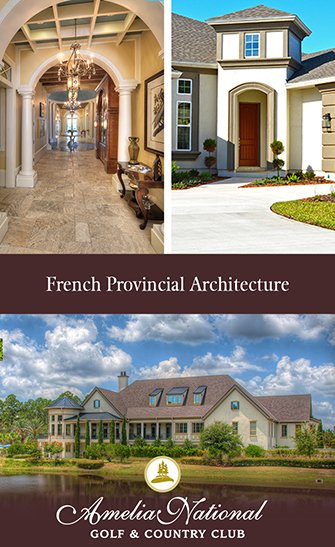 It's a time-honored classic befitting this exclusive, amenity-filled community on Florida's northeast coast, and a look that can be at home almost anywhere.
You'll find more timeless architecture among our Amelia National floor plans, all of which blend seamlessly with the neighborhood's ponds, coastal forests, beautiful landscaping and Tom Fazio-designed golf course. Plus, Amelia Island's Atlantic beaches are only minutes away.
But, if your architectural interest is piqued by Amelia National's gatehouse and its awesome clubhouse, know that both are French Provincial in design. If you like the look, read on to find out how you can feel at home in Amelia National.
What's French Provincial?
Although the style's enthusiasts can name many characteristics, these are basic elements: high-pitched roofs, shutters, smooth stucco exteriors, tall, arched windows, old-world ornamental embellishments such as iron balcony and porch railings and shutter brackets, and brick and copper accents.
And fireplaces!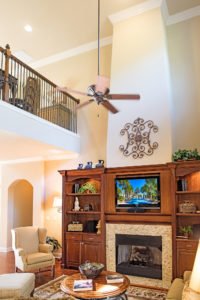 Rounded, tower-like rooms with turret roofs also speak "French Provincial."
Soft white, slate-blue, olive green and terra-cotta red are some of its traditional companion colors, along with textured woods and linens.
Get the look
As of this writing, there are four one-level floor plans available at Amelia National that include a French Provincial-style elevation. In architectural terms, an elevation means a home's exterior appearance or design, not its physical height.
You have many choices that blend with the Florida climate and siting — Coastal, Craftsman, Vernacular, Tuscan and Mediterranean, for example. But since we're spotlighting French Provincial (also known as French Country), check out the following floor plans on ICIHomes.com. While you're there, take the 3D virtual video tours, and visit the photo galleries and interactive floor plans.
The Cameron floor plan features the French Country elevation. It's a clean, streamlined stucco look with high windows, an arched, covered entryway and decorative metal lamps. The Cameron totals 2,624 square feet with three bedrooms, 2.5 bathrooms and a two-vehicle garage.
The Egret II floor plan also features the French Country elevation. It totals 2,969 square feet with three bedrooms, three bathrooms and a two-vehicle garage.
The Egret V floor plan echoes the same French Country elevation as the Egret II. It's a bit bigger at 3,086 square feet, with four bedrooms, three bathrooms and a two-vehicle garage.
The Biltmore floor plan features a similar style, the Country French Manor elevation. This style features arched windows, colorful shutters and a mixed stone-and-stucco facade. The Biltmore totals 3,191 square feet and features three bedrooms, three bathrooms and a two-vehicle garage.
Ready for your Amelia National lifestyle? Talk to us here.