Cycling enthusiasts who live at Amelia National Golf & Country Club will be excited to know that a top trail is only a half-hour drive from their community. The Timucuan Trail, one of northeast Florida's premier cycling routes, can be accessed at Amelia Island State Park —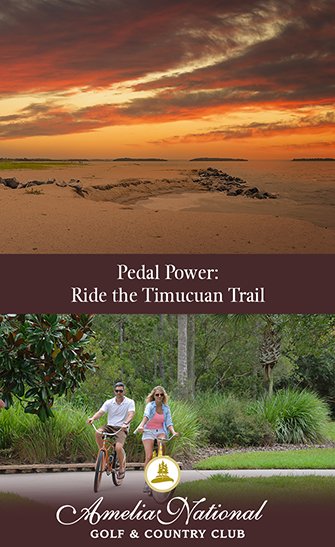 only 16.5 miles southeast of Amelia National. That's close enough to load up the gear, snacks and water bottles and be there in 30 minutes, max.
Cycle it from your Amelia National front door if you prefer — we at ICI Homes trust the round trip won't faze you! — but regardless of how you begin and end your ride, expect to be dazzled by natural beauty and sweeping vistas. Here's our guide to riding the Timucuan Trail.
How to get there
Whether you ride or drive, head east on State Road 200 (use your favorite route to S.R. 200 once you exit Amelia National's gate).
Cross the Atlantic Intracoastal Waterway onto the island. Turn right on Amelia Island Parkway. Follow it past the Fernandina Beach Municipal Airport and continue south after Florida's Atlantic coast highway, A1A, merges with the Parkway.
Stay on the merged route until you reach the island's southern end. The entrance to Amelia Island State Park will be on your left.
Or, employ trusty old Google maps directions from Amelia National to Amelia Island State Park. Click here for directions by car or click here for directions by bicycle. Here's a reminder to pay entrance fees regardless whether you ride or drive.
The northern route
The Timucuan Trail is a section of the East Coast Greenway, a 3,000-mile route that hugs the Atlantic Ocean from Maine to Key West.
In northeast Florida, it begins at Amelia Island State Park. As of this writing, eventually it'll extend south to Kathryn Abbey Hanna Park in Jacksonville.
Amelia National residents can cycle more than 10 miles of the completed trail, beginning with segments in Amelia Island State Park, Big Talbot Island State Park and Little Talbot Island State Park. NOTE: be sure to research entrance fees for the latter two parks.
Begin the Timucuan Trail in Amelia Island State Park. Here, it's a paved path near A1A that winds six miles north to Peters Point Beach Park. Feel free to pedal beyond that, or circle back to tackle the southern part of the Timucuan Trail.
The southern route
Back where you parked, cross Nassau Sound via the George Crady Bridge and enter Big Talbot Island State Park. Don't bypass the boardwalk overlooking Spoonbill Pond, where you may see brilliant pink shorebirds called Roseate Spoonbills.
The Timucuan Trail traverses 3.9 miles of paved pathway through Big Talbot. If you need a pedaling break, stop and hike a few off-road trails. One leads you to Boneyard Beach, where huge, fallen trees at the surf's edge appear bleached and ghostly.
Back on the bike, continue south into Little Talbot Island State Park. Enjoy its 2.5 miles of paved Timucuan Trail or be adventurous — ride the unpaved Dune Ridge Trail through coastal forest, or along the beach.
Ready for your Amelia National lifestyle? Talk to ICI Homes here.