Residents of Amelia National Golf & Country Club know they live in northeast Florida's premier master-planned community. Its gated serenity, Tom Fazio-authored golf course and other top-flight amenities make Amelia National a residential category of one.
But did you know the community is sited near some amazing Florida history? Amelia National's hometown of Fernandina Beach,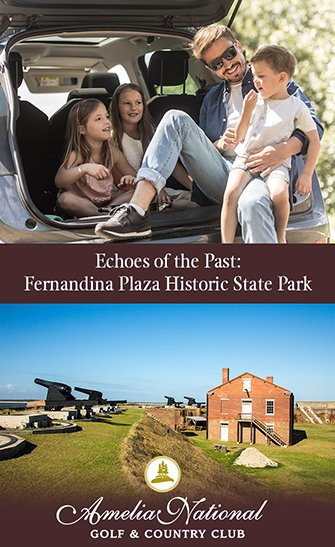 located just east of Amelia Island, has long been a historical lure.
Its geographical significance dates back thousands of years to native peoples, explorers and conquistadors, plus centuries of American history. It doesn't take long to find a historical marker while you cruise Fernandina Beach streets or enjoy Amelia Island's Atlantic beaches.
Today's Fernandina Beach is a charming Victorian-era town. It hosts amazing festivals, an ongoing dining scene, and its harbor provides recreation and sunset settings.
History, however, is everywhere, and we're spotlighting one of the smallest historic spots near Amelia National. Read on for more on Fernandina Plaza Historic State Park.
A hidden patch of history
Fernandina Plaza Historic State Park is located only a few minutes' drive or bicycle ride north of downtown Fernandina Beach. It's Florida's smallest state park, measuring approximately three-quarters of an acre, and is a quiet green space overlooking the scenic Amelia River.
The park is surrounded by historic homes, including the one at 212 Estrada Street that starred in the 1988 movie "Pippi Longstocking" and is known as the Captain's House (circa 1888).
But the park space is what's important: it served as the parade ground/plaza for the Spanish Fort San Carlos, and Fernandina Beach's original location. Centuries before, the area was used by native peoples, and later, as a river landing for European troops and explorers.
The early 19th-century Fort San Carlos is gone — its location a mystery — and today's Fernandina Beach is further south. But its Plaza remains, as do original street names from the 1811 Spanish site plan. Historical markers will coach you up, then grab a seat on a bench to enjoy sunsets over the Amelia River.
You'll be following in plenty of historical footsteps.
More history near Fernandina Plaza Historic State Park
Want more? Allow us to prove how historic your new hometown really is.
If you're a new or soon-to-be Amelia National resident, learning Fernandina Beach and Amelia Island history is a great way to get acclimated to your surroundings.
Listing everything would necessitate endless scroll, but the area's three museums — the Amelia Island Maritime Museum and Amelia Island Museum of History in downtown Fernandina Beach, plus the American Beach Museum in nearby American Beach, a historic African-American beachfront resort — are good starting points. So are historical walking tours.
From there, explore Fort Clinch State Park (featuring the circa-1847 fort), the Amelia Island Lighthouse (Florida's oldest in existence), and the Palace Saloon (Florida's oldest bar).
And we're just tipping the historical iceberg here!
Ready for your Amelia National lifestyle? Talk to ICI Homes here.