Now more than ever, the ability to enjoy one's outdoor surroundings and recreational opportunities year-round has become a major factor in home-buying decisions. Navigating a global health crisis adds another dimension to searching for a new custom Florida home, especially for home buyers moving from big cities and urban areas in colder climates.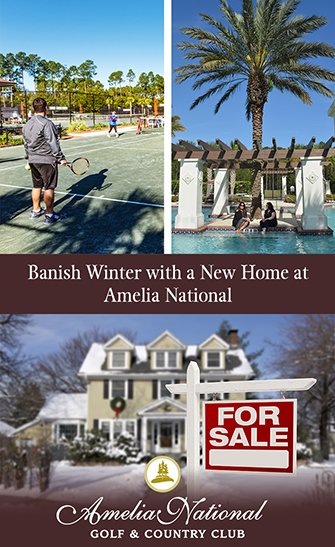 They're ready to escape winter, traffic congestion, and paying higher prices for smaller square footage. Florida's lack of state taxes is a big lure too.
If this is you, we at ICI Homes suggest Amelia National Golf & Country Club in Fernandina Beach. Located 10 minutes from Amelia Island's beautiful Atlantic beaches in northeast Florida, this master-planned community is a gated enclave full of amazing amenities.
You'll stretch your legs, breathe deep and begin each day amid lush landscaping. Best of all, you won't have to scrape ice off your doorstep every six months.
Here's how you can banish winter at Amelia National.
Play golf and tennis instead of shoveling snow
Amelia National boasts one of the top private golf courses in the state. It was designed by the legendary Tom Fazio and regularly hosts top amateur and junior tournaments. The course blends into Amelia National's coastal forest setting, and begins and ends at the welcoming French Provincial clubhouse with its social and dining scenes.
Next door is the tennis center with eight Har-Tru courts, league play and instruction opportunities.
Enjoy outdoor activity without wearing arctic gear
Of course this includes golf and tennis, but also running, walking, porch-sitting, cycling, kayaking, sailing, surfing and so much more.
How about firing up the grill in your new outdoor summer kitchen while wearing a T-shirt in January? Walking the beach? Enjoying brunch at an outdoor café in the historic town of Fernandina Beach?
Lounging by the resort-style pool at Amelia National's clubhouse?
"Sign me up," you say.
We won't promise you'll never put on a jacket. The winter months in northeast Florida tend to mimic mild autumns in more northern climes, and you'll occasionally need a light jacket. But that or a cozy sweater are the norm, not heavy layers.
Speaking of…
Keep your favorite cool-weather traditions
Having the rare chilly winter day means enjoying those experiences in your new Amelia National home.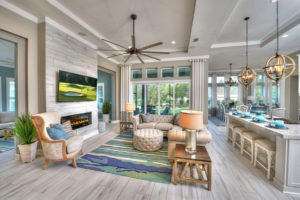 Consider adding a fire pit to your outdoor living area — the better to roast marshmallows with, year-round — or a fireplace to your casual interior living space.
Our popular 2,740-square-foot, one-level Cameron floor plan features a gathering room and sunroom that adjoin each other in the main living area. The two rooms share one small wall punctuated by glowing gas fireplace on both sides, with traffic flowing in and out of both rooms on either side of the fireplace wall.
And, don't forget plenty of windows and glass sliding glass doors that drink in Florida sunshine.
Ready for your Amelia National lifestyle? Talk to ICI Homes here.