One of the endless perks of living in a master-planned community like Amelia National Golf & Country Club is the opportunity for outdoor recreation.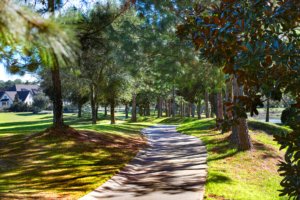 Amelia National's unrivaled amenities can keep you active all day long. A Tom Fazio-designed golf course, tennis center, fitness center and resort-style swimming pool is more than enough to (happily) wear you out.
But, Amelia National also is sited near one of northeast Florida's most popular destinations — Amelia Island and the historic town of Fernandina Beach — and the landscape and abundant sights and natural beauty are perfect for viewing from a bicycle.
Cycling is one of the most popular activities for many Amelia National residents and visitors to Amelia Island and Fernandina Beach. Coastal roads, trails and parks abound in this part of the Sunshine State. And, all offer adventure, discovery and exercise in a beautiful setting.
Here's more on Amelia National residents' guide to local cycling.
Cycling in your community
It's a great place to start if you're just getting into cycling or haven't ridden a bicycle in a while.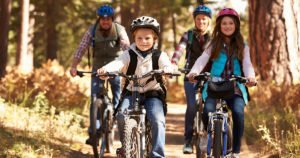 Amelia National's residential streets provide plenty of options for safe, two-wheeled mileage. Early-morning and early-evening bike rides, especially with friends or family, are a wonderful way to begin or end the day.
And, as Amelia National grows with more new custom Florida homes and streets, your room to roam on a bicycle grows too.
Time-tested places to ride
Tuck your bicycles in a vehicle trunk or cargo hold or, if you're a serious cyclist, on a bike carrier and head for Amelia Island's Atlantic beaches. They're an easy 10-15 minute drive east of the community.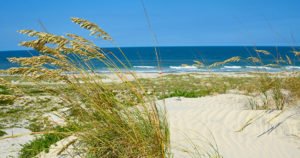 If you have the cycling expertise, bike to the beach! It's approximately 12 miles from Amelia National to Main Beach Park. The scenic vistas to and from are never-ending, and if 30-plus-mile rides don't faze you, go for it.
Most of us will be transporting our bikes since cycling on the beach is another fun way to enjoy it. Hint: You'll want to go at low tide, when the beach is at its widest and firmest. A true beach bike or one with wider tires is your best bet for riding on the sand.
One of the most popular off-campus cycling venues near Amelia National is the Amelia Island Trail. It's a paved six-mile trail that accommodates all levels of riders and types of bicycles. It's also part of the National East Coast Greenway, which, once complete, will run from Maine to Key West.
The Amelia Island Trail is on the southern part of the island. It begins at Peters Point Beachfront Park and ends after you cross the Nassau River via the George Crady Bridge. Cyclists can jump on or off the Amelia Island Trail at several access points, and there are places to stop for rest.
Ready for your Amelia National lifestyle? Talk to ICI Homes here.