Here's introducing you to White Oak Conservation, a 17,000-acre wildlife preserve that houses numerous endangered species, rehabilitates injured wildlife, helps conserve critical populations, and partners with state, federal and international organizations on wildlife-oriented projects.
Wildlife as neighbors probably isn't unusual for Amelia National Golf & Country Club residents, whose master-planned community is sited amid beautiful forested acreage in coastal northeast Florida. Numerous birds, inquisitive squirrels, rabbits and shy deer are only a few of the critters living alongside Amelia National's Tom Fazio-designed golf course.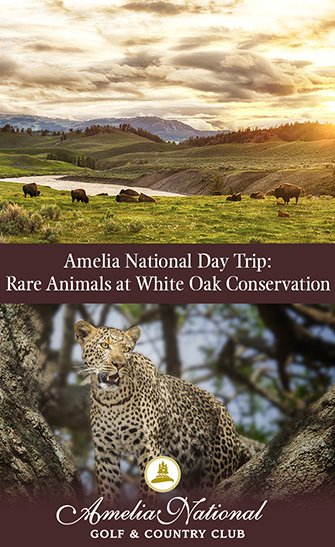 As a nod to the golfing movie Caddyshack, maybe even a groundhog!
But the big, rare animals you usually only see in zoos? Some of those happen to be located only a half hour from Amelia National, and they aren't in a zoo.
Best of all? White Oak welcomes visitors eager to see its rare birds and animals. It also offers educational programs for school groups, internships and summer camps.
Here's how to day-trip to White Oak Conservation.
What is it?
Philanthropist Howard Gilman established the conservation program at White Oak in 1982, on acreage his family had owned since 1938.
Kimbra and Mark Walter bought the property in 2013 and have continued White Oak's wildlife conservation mission. Their Walter Conservation organization also contributes to wildlife needs, protection and research across the globe.
Fun fact: Mark Walter is a co-owner of Major League Baseball's Los Angeles Dodgers.
Where is it?
White Oak Conservation is 36 minutes and 24 miles northwest of Amelia National.
It's near the St. Mary's' River, which forms the border between Florida and Georgia and adds wetlands to the White Oak landscape.
Click here for Google maps directions, or follow along below.
From Amelia National, head west on State Road 200. Turn right at U.S. Highway 17. Stay on U.S. 17 until you reach County Road 108. Turn left and head west for just under 17.5 miles. Turn right on Lessie Road. Turn right on White Oak Road, then a quick left on Owens Road. Follow the signs and you're there.
As of this writing, White Oak offers only private tours via reservation. Call 904-225-3396 or email [email protected] to make one.
What you'll see
Big cats, of course — cheetahs, tigers and even two Florida Panther siblings — but also huge, impressive rhinoceroses, towering giraffes, deer, antelopes, birds and zebras, among other species.
Many animals here are critically endangered or threatened in their native ranges of Africa, Asia and India, or here in North America (the Florida Panther, for example)
And, rare is the operative word. How about a Bongo Antelope? A Gerenuk (think a giraffe-like deer)? A Maned Wolf? A Somali Wild Ass?
White Oak's most recent residents are approximately 30 Asian Elephants, many retired from the Ringling Bros. and Barnum & Bailey Circus in 2016. They're set to occupy a new 2,500-acre habitat at White Oak beginning in 2021.
Ready for your Amelia National lifestyle? Talk to ICI Homes here.