If you seek an exclusive, resort-worthy lifestyle on Florida's historic First Coast, a move to Amelia National Golf and Country Club should be at the top of your short list.
This gated community offers an 18-hole golf course from renowned designer Tom Fazio, an eight-court tennis club, a spa-caliber swimming pool, a playground for the kids and grandkids and lively social and dinning scenes at its French Provincial clubhouse. The community is located within 10 minutes of Amelia Island and the historic port town of Fernandina Beach. But, bet you don't know that what's happening outside Amelia National can make life here even grander.
Booming Area
Amelia National is located in Nassau County — Florida's most northeastern county. Our community is buttressed by the Georgia border to the north, the Atlantic Ocean to the east and Interstate 95 to the west. In between are vast timberlands, wide beaches, and a quiet, low-country feel. The historic towns of Yulee and Fernandina Beach boast plenty of atmosphere, and people who know all of this are moving here for the quality of life.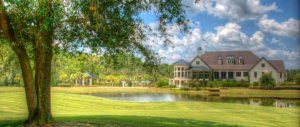 Roads are being widened and new shopping centers and services are arriving. Communities are being built< yet conservation and history are being honored. Museums, historic homes and other places continue to preserve what was, while new communities represent what is.
'A-Rated' Schools
Education is a critical consideration for families with school-age children. Public schools in the Nassau County School District are "A-rated," which is an important designation. Amelia National residents can enroll their kids in either the Fernandina Beach or Yulee public schools.
A choice of private schools also is available. For college students, the University of North Florida is 30 minutes south in Jacksonville.
Great Location
The Amelia National community is located near the middle of Nassau County, only a few miles south of the county's main east-west highway, State Road 200/A1A — 8.5 miles of which are being widened from four lanes to six, with accompanying bike lanes.
To access this artery, Amelia National residents turn right out of their gated entrance onto Amelia Concourse, zip north a mile or so and hit SR 200. Either direction leads to major new shopping choices for goods and services. A right turn leads east to Amelia Island beaches while turning left on SR200 leads west to I-95.
Or, stop at the southeast corner of the Amelia Concourse-SR 200 intersection and eat at Tasty's, a local burger joint that piles on home-cooked fries and hand-dipped milkshakes.
Create Your Own Haven
In the midst of this exciting growth, Amelia National remains your private enclave in Florida's northeast corner. The gated entrance and siting among abundant natural resources ensures peace and quiet (except for a neighbor's barking dog). Amenities such as the Tom Fazio-designed golf course means even your entertainment can be self-contained!
Ready to investigate one of Florida's most intriguing locations? As Florida's Custom Home Builder, ICI Homes can make it happen. Click here to begin.