Amelia National Golf & Country Club residents enjoy so many community activities that seeking entertainment elsewhere might be an afterthought.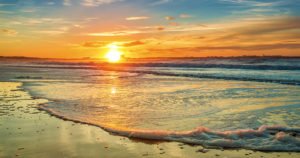 But, when it's time for adventures, how about a treasure hunt on Amelia Island beaches?
Amelia National's proximity to one of Florida's top destinations is only one reason to tab it as the location for your new custom Florida home. It's ICI Homes' premier master-planned community in northeast Florida, offering a Tom Fazio-designed golf course, a French Provincial clubhouse, dining and social scenes, plus a fitness center, expansive swimming pool and sun deck, and a multi-court tennis center.
So, why go elsewhere for outdoor fun?
Read on for more about discovering nature's treasures on Amelia Island beaches.
Make beach time an active time
Want to do more at the beach than sit or sun on it? The art of beach-combing might be your jam.
Even if you're not regular beach-goer, all you need is appreciation for gorgeous coastal scenery. An adventurous spirit helps, especially if you're a new Amelia National resident keen on exploring your surroundings, or a prospective resident intrigued by the idea.
Nearby Amelia Island — a 10-15-minute drive east from Amelia National — has some of Florida's most beautiful Atlantic Ocean beaches —13 miles, in fact. With more than 40 public accesses, many with facilities and in local and state parks, it's easy to become a beach-comber.
Shell-seeking is never-ending fun
Start with the good stuff — Florida sea shells!
You'll be amazed at the shapes and sizes that incoming tides deposit daily on Amelia Island beaches.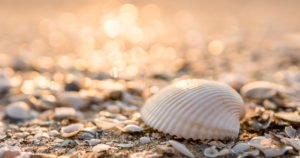 Its predominantly white quartz sand holds a treasure trove of olives, scallops, conchs, periwinkles and many other species. Shells actually are the former homes of tiny sea critters. Scallop and oyster shells once housed those tasty varieties of seafood.
Low tide is the optimal time to treasure-hunt. Amelia Island's wide beaches are widest during low tide, and shells and other natural treasures (see below) are most plentiful at the tide line — the undulating piles where waves have deposited the day's objects.
Helpful hint: don't collect a live shell (with its creature still in residence). You'll find plenty of vacant ones. Promise!
Seek other natural wonders
Although shelling almost always rewards you, there are more objects to gather on Amelia Island beaches.
Sea glass, horseshoe crabs, shark teeth, sun-bleached pieces of driftwood and even small fossils can be found at the low-tide line. Shark teeth are a popular find, as is sea glass (pieces smoothed by wave action) and striking dark horseshoe-crab shells.
Feeling really adventurous? Buy (or rent) a metal detector. Cue up a local beach-combing guide such as Amelia Shark Tooth Adventures, LLC. Or, jump online at the Florida Museum of Natural History website and learn about the Sunshine State's natural wonders.
Those ancient sharks' teeth have quite an amazing background.
Ready for your Amelia National lifestyle? Talk to ICI Homes here.