You might be seeking a new golfing home. Your current home might be where winter happens — like, January golf doesn't get played. "Bundled up like a snowman?" you say. "C'mon."
Welcome to Amelia National Golf and Country Club! This exclusive, gated community is where you can golf every day in January as long as it's not raining. Located 10 minutes west of Amelia Island on Florida's northeast coast, Amelia National enjoys the Sunshine State's warmth, subtropical weather and its mild winters. No more teeth-gritting against icy chill on the tee box. Here are three more reasons to migrate south to Amelia National — or, further south, for you Georgia and Carolinas golfing refugees.
Famous Name = Fun Course
Amelia National's 18 holes were designed by Tom Fazio, one of the sport's top golf-course architects. If you know golf, you know the name. If you're learning golf, he's the guy whom officials at Augusta National Golf Club, home of the legendary Masters Tournament, call for their course "adjustments."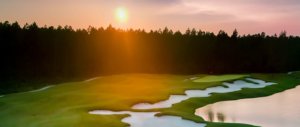 Fazio and his company, FAZIO Designs, also create courses for Everyman and Everywoman. This includes his handiwork at Amelia National, carved from northeast Florida's coastal pine forests and sprinkled with thoughtful, sandy hazards and watery parameters. It's not a punitive obstacle course. It's a masterfully-wrought adventure in your own new backyard.
Famous Name, Yet Affordable
If Tom Fazio designs courses for the stars of the golf world and exclusive communities, a golf membership at Amelia National must be ridiculous, right?
Wrong. Try $5,000.
Compare that to the $200,000-and-sometimes-above initiation fee you'll pay at some Fazio-designed courses in the northeast and mid-Atlantic. Places where there's real winter.
Non-Golfers Can Love Amelia National
Just ask sales associate Juliana Toohey, the first and best contact for Amelia National home buyers.
"You can be a golfer or not be a golfer and still enjoy it," Toohey says, adding that a golf-cart drive or restorative walk around Amelia National's signature feature is a serious perk. So are Amelia National's eight-court tennis club, large spa-like pool and your neighbors as part of the community's social and dining memberships.
Another smart reason to live here? Location.
Amelia National is minutes from one of Florida's top resort areas (Amelia Island), a fun, culture-laden historic town in Fernandina Beach, a booming region (Nassau County) and only a half-hour north of metropolitan Jacksonville, one of Florida's largest cities and ports.
Although Amelia National technically isn't on Amelia Island, the lifestyle is the same. Plus, you're only minutes from the same gorgeous beaches.
"You can live on Amelia Island for a fraction of the cost," Toohey says of the Amelia National advantage and mindset. "People who're still working can make that commute yet come back to peace and quiet."
Ready to research Amelia National? As Florida's Custom Home Builder, ICI Homes (and Juliana) can help with a Discovery Tour. Click here to get started.