Just moved into your new custom home at Amelia National Golf & Country and eager to explore your surroundings? Maybe nearby Amelia Island?
We've got the perfect introduction.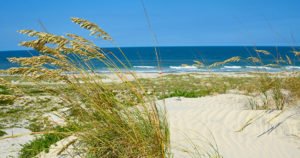 Several, in fact. There's nothing like a tour to introduce you to a new experience or knowledge base, and we have all sort of local options.
Amelia Island is the first Atlantic Coast barrier island in Florida, and the entire area is known as Florida's northeast gateway. Immense natural beauty, centuries of fascinating and perilous history, and a location only 30 minutes north of the metro Jacksonville area, make Amelia Island, Fernandina Beach — and Amelia National — attractive places to call home.
So get out there and discover why this northeast Florida jewel is such an inviting place to reside.
How? Locate local tours to fit your tastes and interests. Or, build your own.
Take a tour
Destination locations like Amelia Island and Fernandina Beach are prime territory for tours. Both companies and independent business people operate tours, usually in a specialty discipline like brew pubs.
Choose what aspect of your new hometown you'd like to discover or know better and research it. One great source is your new community. Poll your Amelia National neighbors and ask around as you enjoy your new membership perks and activities.
No doubt someone's enjoyed a pub crawl or historic home tour, and can point you to its source.
For the record, you can find food and beverage tours, museum tours, ghost tours, architectural tours, kayaking tours, horseback riding beach tours, and many more based in Fernandina Beach and its environs.
Build your own tour
Once you've sampled a few tours near your Amelia National home, it's easy to translate what you enjoyed into future activities tailored to YOU.
Or — even more helpful — to your friends, families and future house-guests.
Moving to a lovely Florida locale is a near-automatic way to acquire visitors. As the host of your personal Amelia National "Inn," having favorite go-to places and activities makes it easier to entertain and enjoy those family members and friends.
After all, you already know the best times to go, the fees, how long it'll take, and how everyone should dress, etc. You don't have to stall with, "well, let me find out."
Needs some examples?
Try building a kids'-day-at-the-beach-tour. Firstly, have breakfast at a favorite pancake house. Then, enjoy active hours at your favorite Amelia Island beach, a picnic lunch, and perhaps afternoon surfing lessons.
Adults in tow?
Hit a variety of local art galleries, followed by cocktails and dinner at a favorite Fernandina Beach restaurant. Hosting folks who love craft liquors, brews and spirits? Fernandina Beach and Amelia Island have a raft of unique, historic and highly rated bars and pubs.
How about outdoor enthusiasts? They'll appreciate your guidance to favorite nature trails, kayaking venues or fishing holes.
Ready for your Amelia National lifestyle? Talk to ICI Homes here.