Don that seasonal snowbird badge proudly! You'll be one of millions who dwell part-time in Florida, mostly during the cooler months, and we at ICI Homes will be glad to have you.
In all seriousness, the seasonal population is a strong economic contributor to many U.S. states with hospitality and tourism industries. Seasonal homes typically function as fun escapes for their
owners (with all the comforts of home) and typically appear in cities or regions brimming with amenities, outdoor recreation or hobby destinations.
There probably aren't many of us who'd spurn a sunny, 75-degree beach day, a round of golf, or a boat trip down the Intracoastal Waterway in January. That's why you'll proudly proclaim your seasonal residency — okay, "snowbird" to use the tongue-in-cheek phrase — and call Florida your part-time home.
We get it because we love living in Florida, too. We're also here to convince you that Amelia National Golf & Country Club in historic Fernandina Beach is the perfect snowbird community, especially if your primary residence sees wind chills and snow.
Amelia National has everything you need
It's located 30 minutes north of Jacksonville if you use Interstate 95, and only 10 minutes west from Fernandina Beach. Restaurants, art galleries and fun gathering places make the latter an effortless go-to dining and entertainment venue, but don't overlook Amelia Island beaches. You have 13 public miles to enjoy and multiple access points. That's especially nice when family and friends back home are whining about the cold.
At Amelia National, begin with the gated entrance, stunning vistas and serene native landscaping. The amenity jewel is a golf course by one of the world's top designers, Tom Fazio. If you know the sport, enough said.
You'll also find a tennis club with eight lighted courts, a beautiful resort-style pool, a French Provincial clubhouse, dining and always-lively social opportunities.
Sounds better than navigating a snowstorm, right?
Take a Discovery Tour
Come visit us at Amelia National. We'll prove why snowbird-ing is perfect at our place. The optimum time is during the season you'd like to live here, but come down anytime.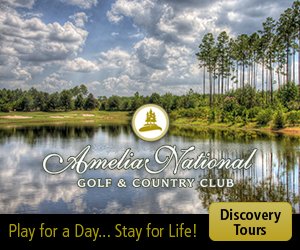 We'll host you via one of our Discovery Tours — a three-day, two-night stay on property. It features time with Amelia National staff, a thorough sampling of all the amenities, plus time to explore on your own.
Click here for more details, but Discovery Tours packages include two rounds of golf, a $50 dining pass for clubhouse dining and all the use you'd like of the fitness center, tennis center and pool.
Wait. There's more.
Staying in a hotel isn't the best way to figure out whether you'd like to become a second-home owner. It'll do, of course, if you don't have another lodging option. But we at ICI Homes have you covered even here.
When you book a Discovery Tour, you'll stay at an Amelia National cottage — one of our own three bedroom, 2.5 bath Belaire plans, which we fondly call the Eagle's Nest. Not only do you get to try out the neighborhood, you get to try out our popular plan. You just might like the Discovery Tour home you stay in for your seasonal home!
Ready to explore second-home ownership? Talk to ICI Homes here.