It's a common and endearing impulse once you move to a coastal location: why not spotlight local natural objects in your new decor? That's likely a popular inclination for Amelia National Golf & Country Club residents, who live in one of northeast Florida's most desirable master-planned communities. Amelia National's private,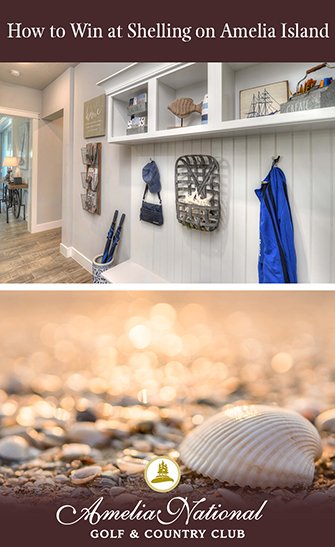 gated environs is only 10 minutes west of Amelia Island, the top resort destination in this part of the state, and its historic harbor town of Fernandina Beach. Even better, Amelia Island's gorgeous Atlantic Ocean beaches are only five more minutes beyond Fernandina Beach. There, you'll find seashells galore — the better with which to decorate your new Amelia National home. But how do you find those natural decorative objects? Especially if you haven't done much shelling down by any seashore, or haven't done it in a long time?
We'll show you how!
How to go shelling on Amelia Island
Winter generally is the best time to spot specimens thanks to stronger currents associated with that season's storms, but you'll find shells year-round on Amelia Island. Try scanning the beach after summer thunderstorms and after tropical storms pass offshore.
Another good time to hunt for trophies is after seasonal "king tides," the astronomical high tides that occur several times each year. These can uproot more shells and sweep them farther onto the beach for your perusal.
Low tide is the best time of day for a shelling excursion. The preceding high tide has deposited that cycle's treasures, so begin your hunt where waves lap the sand at the water line and redistribute shells.
Among the trophies you're likely to find here: olives, whelks, periwinkles, clams and sand dollars. One popular shelling trophy along Amelia Island beaches is shark teeth, both present-day and fossilized. One shark can produce tens of thousands of teeth during its lifespan, so there's no shortage. Look for the dark gray or black triangular dagger shape among shells.
Other places to seek seashells: along St. Mary's Inlet at nearby Fort Clinch State Park.
How to use seashells as fun decorative objects
Forget the cliched seashell-filled lamps. Unless, of course, you like them. If so, carry on!
But there are many ways to incorporate your favorite finds into your new Amelia National home. Perhaps the easiest method is to spotlight them on their own.
Clear glass containers are a good choice, especially those with lids. These containers foil dust and limit the escape of residual sand that sometimes resists flushing from shells' crevices. Lidded glass containers also help corral smaller shells.
Textural baskets made of rattan, woven grasses, bamboo and other natural materials are good for larger shells, which contrast with a basket's texture and can be picked up and examined.
Other ways to use seashells is by including them in homemade wreaths, all kinds of crafts, or in the display indention of a glass-topped coffee or dining table.
Ready for your Amelia National lifestyle? Talk to ICI Homes here.