Residents new to Amelia National Golf & Country Club, and even some of you who've been with us for a while, may not know the area surrounding your community is as historic as it is. In fact, entire history books have been written about nearby Amelia Island, which is located only 10 minutes east. Eight ruling entities' flags have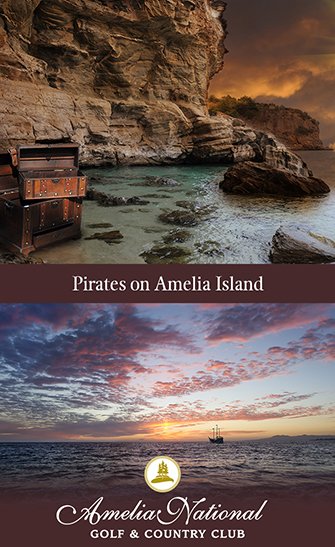 flown over this beautiful slice of northeast Florida. Tales of treasure, peril, settlements, conflicts and more fill centuries past.
Today, Amelia Island is known for its immense recreational resources, Atlantic Ocean beaches, resort-style living and Victorian Era historic district in downtown Fernandina Beach. But did you know this area also had — and still has — a swashbuckling streak?
Allow us to tell you why Amelia Island pirates are still a thing!
Piracy with a past
Many European nations, colonial and territorial governments contested each other over Amelia Island's prime location as the southern border of today's St. Mary's River, with Georgia's Cumberland Island to the north. The river empties into the Atlantic between Amelia and Cumberland Islands. Ancient native peoples, conquistadors, explorers, armies and many others prized the location for its easy, deep-water access.
Among those valuing the harbor in what is now Fernandina Beach were pirates. And generally anyone who sought refuge from authorities or discovery. Amelia Island's peak as a piracy haven happened during the 17th and 18th centuries. During that time, pirates plied North America's east coast and shipping channels in the tropical Atlantic and Caribbean.
The deep natural harbor in today's Fernandina Beach hid their ships, while thick coastal tree canopies, oak hammocks and dense marshes hid their on-shore encampments.
Although hearsay and tall tales abound, one pirate here is documented. His name is Luis Aury, who was a French-born "privateer" who operated his own ships in the late 1700s and early 1800s. He claimed Amelia Island for the Republic of Mexico in September 1817. But, he surrendered it to United States forces four months later.
So, the question you can't wait to ask: is there buried treasure somewhere on Amelia Island?
Probably a good bet!
Present-day pirates
Amelia Island pirates return for one weekend each May as part of Amelia Island's Isle of Eight Flags Shrimp Festival.
A Thursday-night pirate parade opens the festivities. Then the Fernandina Pirates Club conducts highly anticipated "invasions" from the Amelia River on Friday and Saturday nights.
Gunpowder booms! Cries of "Ahoy, matey," delight and inspire fear! Later, there are pirate costume contests for all ages.
Locals who are members of the nonprofit Fernandina Pirates Club also mine the area's history as a theme to do good in the community. Club members raise money for charities and fund two scholarship contests for Nassau County high school seniors. They also entertain at birthday parties and participate in many other events through northeast Florida.
Ready for your Amelia National lifestyle? Talk to ICI Homes here.