If you're searching for a new custom Florida home in the northeast corner of the state, don't miss an amazing opportunity at Amelia National Golf & Country Club.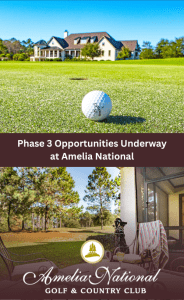 Its newest residential expansion — Phase 3 — is well underway and now is a great time to take advantage of both selection and pricing.
Amelia National is one of ICI Homes' signature properties in northeast Florida. It's only minutes west of historic Fernandina Beach and Amelia Island, one of Florida's top resort destinations, plus miles of pristine beaches, dining, shopping and entertainment options.
But Amelia National residents live in a resort all their own. With amenities like a Tom Fazio golf course in your backyard, who wouldn't? And there's no better time to secure your slice of it.
Here's more on Amelia National's exciting new Phase 3.
All the reasons to live here
Amelia National is one of those places you want to be. Its gated entrance promises privacy and exclusivity, and the beauty of the place can't be overstated. Nestled amid hundreds of acres of coastal woodlands and shimmering ponds, the jewel-like Fazio golf course winds past homes, soaring pines and oaks, and picturesque vistas.
The French Provincial clubhouse anchors all the amenity action with a hopping dining and social scene, a fitness center, resort-style swimming pool, and an eight-court tennis center. Sidewalks and paths course through the entire neighborhood, inviting walkers, runners, cyclists and strollers.
Phase 3 opportunities
You have to live here to enjoy all the above. Now's your opportunity, especially if you're keen on a dream home, retirement home or just-perfect family home.
Amelia National's Phase 3 lots clock in at a generous 60 and 80 feet (your choice). The golf course's 15th hole serves as the backdrop for some lots, while others showcase ponds or conservation areas. There are no back-to-back lots; no one will stare at a neighbor's pool.
Two new model homes are under construction — a 3,137-square-foot Egret and a 2,565-square-foot Costa Mesa — both must-see when finished. Check back here for updates!
Five floor plans are in play for the 60-foot lots — from the 1,979-square-foot Juliette to the Costa Mesa. Choose from nine floor plans for the 80-foot lots, beginning with the 2,512-square-foot Egret VI to the five-bedroom, 3,565-square-foot Brooke.
The best news? All can be customized to your needs by Florida's Custom Home Builder, ICI Homes. Talk to your sales associate for more info.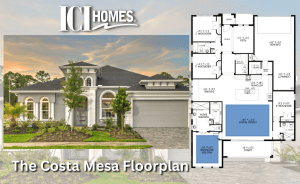 Handy tip: The Costa Mesa is one of ICI Homes' most popular floor plans and can be build on either size lot in Amelia National's Phase 3. In fact, you'll find one being built right now as part of Amelia National's move-in-ready inventory. These popular floor plans with timeless interior design elements are the quickest way to nab a Phase 3 home.
Ready for your Amelia National lifestyle? Talk to ICI Homes here.