Amelia National Golf & Country Club is surrounded by natural beauty inside and outside its boundaries — a major reason this master-planned community in northeast Florida is in demand.
Residents who seek a premier residential lifestyle with one-of-a-kind amenities will find it within Amelia National's gated environs. But outside them, Amelia Island, a perennial visitor destination, and its historic port city of Fernandina Beach are only 10 minutes east.
That means it's easy for Amelia National residents to explore the nearby Atlantic Intracoastal Waterway, state parks, national parks and St. Mary's River. And, when they hanker for road trips, we've got a suggestion.
How about the Okefenokee Swamp?
Known as "The Land of the Trembling Earth," it's a National Natural Landmark across the Georgia state line from Florida.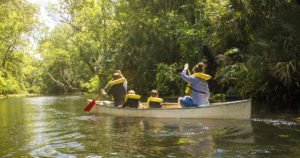 The swamp's 438,000 acres engulfs three Georgia counties — Clinch, Charlton and Ware — and Baker County, Florida.
It also encompasses the 402,000-acre Okefenokee National Wildlife Refuge — the U. S. Fish and Wildlife Service's largest such area in the eastern U.S. — and forms the headwaters of Florida's iconic, 280-mile-long Suwannee River and 190-mile-long St. Marys River.
Needless to say, this 7,000-year-old natural wonder provides jaw-dropping scenery, outdoor recreational opportunities, and historical areas. It's amazing to see, and we'll share how to do it.
Getting there
The Okefenokee Swamp is approximately 50 miles and and a hour northwest of Amelia National. Totally doable in one day. From Amelia National, head to State Road 200 and turn left, or east. Turn right once you reach the intersection with U.S. Highway 17. Head north.
When you see County Road 108, turn left and head west to the town of Hilliard. Look for the intersection at U.S. 301 (and other major highway signs). Turn right and head north. Cross the St. Marys River, the state line between Florida and Georgia, and approach Folkston, Ga.
Look for West Martin Street and turn left. Make another left on Okefenokee Drive, which also is Georgia State Road 23 and the Okefenokee Parkway. Follow it for seven miles, then turn right on Suwannee Canal Road. The main Okefenokee National Wildlife Refuge entrance is on the right.
What you'll see
Start your Okefenokee Swamp experience with a visit to the Richard S. Bolt Visitor Center. Get coached up on hiking trails, boat tours, kayaking and canoeing. Check out the historic Chesser Island Homestead, home to early settlers, and walk the Chesser Island boardwalk.
A few miles away, the Stephen C. Foster State Park offers camping, boating facilities and interpretive programs.
Did we say fishing? Stalk freshwater species in the Okefenokee's near-endless streams, ponds and rivers. When it's time to leave the wilderness a bit behind, visit the Okefenokee Swamp Park at the north end of the swamp, where train and boat tours, more exhibits and boardwalks, and animal shows are available.
Ready for your Amelia National lifestyle? Talk to ICI Homes here.