Country-club living is stuffy? Where you'd get that idea?
We know, sort of. Movies, television and other forms of entertainment often lampoon a "country-club lifestyle." But if you're searching for a new custom Florida home in northeast Florida, banish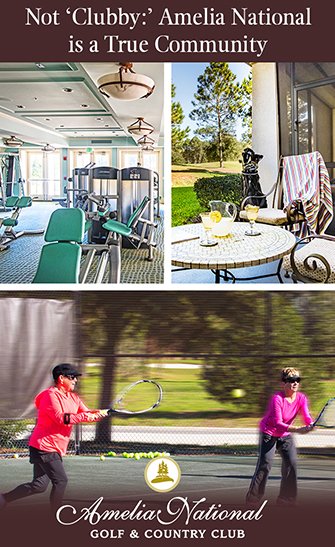 those stereotypical notions of staid, stuck-up luxury.
Amelia National is a beautiful, welcoming master-planned community that boasts some of the most enviable amenities in the region. There's truly something here for all, and if you need a change of pace, nearby Amelia Island and its historic town of Fernandina Beach serve up additional, endless options.
Hence, Amelia National is more than just "clubby."
The Clubhouse is your friend
When you buy a new custom Florida home at Amelia National, the clubhouse is your house too!
It's not just a structure you pass on your way in and out of the neighborhood.
You might be seriously considering a move here due to the fact that you're interested in a modern country-club lifestyle. So we'll assume you know that a lifestyle membership is mandatory when you buy your new home with us. That's completely a good thing.
Why?
The French Provincial clubhouse is the physical center of Amelia National's active, social community. It contains dining areas and fun watering holes, numerous activity and meeting rooms and a fully-stocked fitness center. Just outside is the expansive, resort-style swimming pool. Next door is the tennis center. Wrapped all around is a Tom Fazio-designed golf course.
Does that sound stuffy? We didn't think so!
Focused on community
Once you're settled in your new Amelia National home, embrace those opportunities above. Use the clubhouse to make new friends.
Perhaps the easiest path is by exploring the dining and social scenes. Grab lunch and dinner at the clubhouse. Introduce yourself to other diners and the friendly staff. Be there for select happy hours, special dinners and parties.
Or, tag along with neighbors who are regular diners and socialize-rs, and ask them to introduce you. Confide any special dietary needs to the kitchen staff. You'll enjoy your food the way you want it every time.
Away from the dining table, learn to play mahjong, bridge, or, contribute to a book club discussion. Join a stretching yoga session. All of these activities are a sample of the weekly meet-ups you'll find buzzing throughout the clubhouse and there are many more.
Take lessons at the tennis center with its eight Har-Tru courts. Lounge at the pool and sip at its cabana bar. Work up a sweat at the fitness center and consult with its manager on a personal workout program.
Indulge in a fraction of what we've mentioned above, and you'll soon discover a true sense of community. You'll also enjoy the safety, security, and above all, friendliness, of Amelia National's gated environs.
Ready for your new custom Florida home? Talk to ICI Homes here.