Ready to live the gated-community lifestyle, but with a bit less house?
We at ICI Homes got your back!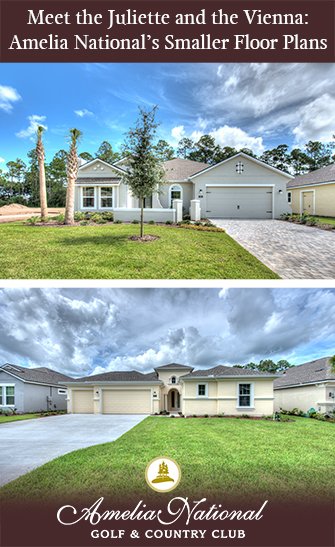 At Amelia National Golf and Country Club in Fernandina Beach, Florida, we currently offer no less than 13 floor plans to suit yours and your family's needs. Those plans range from a smidge under 2,000 square feet, to over 4,000, with all sorts of versatile configurations.
But you're not interested in buying a house here, just to buy a house, right? We didn't think so.
Amelia National is one of northeast Florida's premier master-planned communities. Its amazing amenities include a Tom Fazio-designed golf course, and it's located a convenient 30 minutes north of Jacksonville and 10 minutes west of Amelia Island's Atlantic coast beaches.
The area is thriving and growing (so is Jacksonville). Homebuyers of all ages and life seasons are moving to this northeast corner of the Sunshine State, so we at ICI Homes are happy to offer even more options.
Read on to discover our smaller floor plans now available at Amelia National.
Meet the Juliette and the Vienna
They're our two coziest Amelia National floor plans.
Both Juliette and Vienna feature three bedrooms, two bathrooms and a two-vehicle garage. They're one-level homes with open living areas, private bedrooms and outdoor lanais.
Sound perfect? Let's dig a bit more.
The Juliette is the smaller floor plan — 1,979 square feet. It includes a flex room that can be whatever you need or want it to be. Think home office, craft room, yoga studio. The Juliette is a split floor plan, which means two of its bedrooms share a full bathroom, and are on an opposite end of the house from the owner's suite. That ensures peace, quiet and privacy for all.
The Vienna is slightly larger — 2,157 square feet. You enter it via a distinctive round foyer and emerge into the expansive, open living space. Beyond is the large, L-shaped lanai which doubles your living space in Florida's mild climate. The owner's suite includes a second, more private access to the lanai. And, like the Juliette, the Vienna is a split floor plan, with bedrooms on opposite sides of the house.
Why Juliette and Vienna can be right for you
You might be empty-nesters downsizing. Or, younger folks starting a family. Perhaps you'd like a second home in which to thaw during winter months, or as a vacation escape any time of year.
Whatever your impetus, cleaning and managing a larger home simply isn't in your future. You're thrilled to exchange your current larger house for a new smaller custom home that's a better fit. Or, you want to avoid being in that too-much-house situation to begin with.
Ready for your Amelia National lifestyle? Start the conversation here.