Think golf is the be-all-end-all activity at Amelia National Golf and Country Club?
Oh no, friends.
Chasing the little white ball is the top focus, yes. You don't ask world-renowned golf-course architect Tom Fazio to design your 18 holes if golf isn't your signature activity. But, there's plenty to do for non-golfers, or for golfers who want a break. Here are our suggestions, in no particular order:
Tennis Time
Amelia National's Tennis Club offers a complete experience, from its eight Har-tru clay courts, to counsel and instruction from on-site USTA pros. Also on site: a 1,500-square-foot club building with a pro shop, wraparound views and comfy white rocking chairs on its outside porch area. A playground is adjacent to the tennis club.
Two of the eight professionally-maintained clay courts are stadium courts. All host numerous clinics, tournaments, camps and leagues for juniors and adults. Each court features PlaySight technology, a system that records and analyzes players' activity and motions, setting the stage for individual coaching, bio-mechanical analysis and 3D tactical game management. The tennis club is located adjacent to the main clubhouse — handy for snack runs to the 19th hole bar and grill, and victory leaps into the pool!
Speaking of the pool…
Splash Away the Day
It's a beauty. A free-form oasis that winds among palms and arbors at the back of the Amelia National clubhouse. Enter through the courtyard that frames its entrance, then pick your plop-down spot. If you really want to chill, find the more private hot tub spa tucked under a gazebo. But, the real star is the pool, whether it's only you, or a Little League birthday party.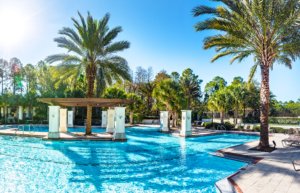 If it's the latter, the fountains splashing poolside provide white noise. The pool is zero entry, meaning a sloping, beach-like walk into the water, without steps. The lounge decking is spacious enough for the entire Amelia National community, should all those folks show up at the same time… but they won't. So enjoy the watery hideaway and the lush tropical landscaping that encircles it.
Get and Stay Fit
It's probably not as fun as a round of golf, a tennis match or a cannonball into the pool, but the fitness center at the Amelia Island clubhouse will keep you in shape for those activities. It's located in a cheery, aqua-colored area and features free weights, weight machines and plenty of cardiovascular apparatuses such as treadmills, upright bikes and elliptical machines.
If you forget to bring your tunes, the cardio machines will entertain you with built-in television monitors.
Wining and Dining
You can argue that all above activities are social. They are. But, cozying up to the 19th hole bar and grill is a timeless tradition at a golf club, and Amelia National carries it forth in grand style. Grab a drink and rehash how you played. Or, how you'd like to!
Dining options extend beyond the 19th hole, of course. Have dinner at the club, host a special event or reserve a private room for whatever function you need. The kitchen and catering staff is equal to any tasty task.The French Provincial clubhouse also offers plenty of gathering spots within view of its beautiful grounds and beyond, the Tom Fazio-designed golf course.
Does Amelia National sound like your recreational dream? As Florida's Custom Home Builder, ICI Homes can help with a Discovery Tour to experience it. Click here to begin.