Tucked in a forested setting only 10 minutes from Amelia Island and historic Fernandina Beach, Amelia National Golf & Country Club lacks nothing in natural splendor and surroundings.
Did we mention a Tom Fazio-designed golf course in the heart of this master-planned community,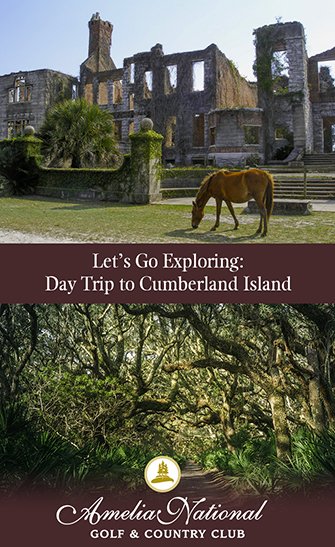 which also is one of ICI Homes' signature properties? Now we have!
Sometimes, however, it's fun to explore, and Amelia National residents don't have to go far. Since Amelia Island belongs to a string of coastline-hugging islands from northeast Florida through Georgia and South Carolina known as "sea islands," many of these beautiful, historic islands make great destinations for visitors and residents.
So, let's head north to another sea island. Follow us for a day trip to Cumberland Island.
Why Cumberland Island is special
Located across the St. Mary's River from Amelia Island — the river forms the Georgia-Florida border — Georgia's Cumberland Island is mostly unoccupied and protected by the U.S. Park Service.
If you visit Florida's historic Fort Clinch State Park on Amelia Island's northern tip, you can spot Cumberland Island's southern shores across the Cumberland Sound. It's the largest of Georgia's sea islands known as the Golden Isles, and the Cumberland Island National Seashore oversees 9,800 acres of federally-designated wilderness.
Cumberland Island's history encompasses ancient peoples, Revolutionary War heroes, centuries of sparse settlement, agricultural cultivation, and late 19th and 20th-century ownership by the Carnegies, a prominent Gilded Age family.
How to get there
All travel is by passenger-only ferry or private watercraft. The good news for Amelia National residents is that ferry service is available from two convenient sources, depending on your trip.
If you simply want to see Cumberland Island from the water — and enjoy Amelia Island visages — check out the Cumberland Island Tour from Amelia River Cruises.
If you plan a stay at Cumberland Island's only public lodging, the historic Greyfield Inn, its private ferry, the Lucy R. Ferguson, departs the Fernandina Beach marina daily.
If you day-trip to Cumberland Island, drive north on Interstate 95 and follow signs to the historic Georgia town of St. Mary's. Then, catch the Cumberland Island ferry to the park service's Sea Camp dock.
Note: day-trippers should take water, snacks, and other needed items, as there are limited park-service facilities. Wear comfy clothes and shoes.
What you'll experience
Aside from the circa-1890 Carnegie-built Greyfield Inn, see ruins of another Carnegie home, Dungeness, and the preserved Plum Orchard home, which dates to the same era. Don't miss the historic First African Baptist Church on the island's north end, which hosted the 1996 wedding of the late John F. Kennedy Jr., and Carolyn Bessette.
All 18 miles of Cumberland Island's beaches are undisturbed. You'll see wild horses, massive oaks, and other natural landmarks. Camping is available, as are organized tours via the park service-approved Land and Legacies Tour.
Ready for your Amelia National lifestyle? Talk to ICI Homes here.