Enjoying the water is a big part of Florida living, and residents of Amelia National Golf & Country Club can enjoy it every day thanks to their neighborhood water features.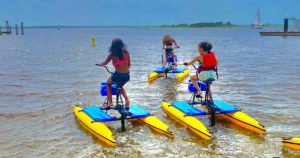 Numerous ponds and lakes beautify this master-planned community 30 minutes north of Jacksonville, and that's not even counting backyard swimming pools or spas, or the resort-style swimming pool and sun deck at Amelia National's clubhouse.
Even more freshwater and saltwater fun is available on nearby Amelia Island. Boating, piloting personal watercraft and surfing are only a few ways to enjoy local rivers, creeks and the Atlantic Ocean. But, did you know you now can enjoy the water via cycling too?
Sure can! It's called hydro cycling — a bicycle-like frame on sturdy floats that you power by pedaling atop the water and steer with bicycle-like handlebars.
You'll also hear hydro cycles called water bikes. But no matter their name, hydro cycles are a unique way to enjoy the water by doing something many of us already know how to do — ride a bike.
How hydro cycling works
It might look a little goofy at first, but definitely like tons of fun. Think of the selfies!
If you know how to ride a bike, hydro cycling is an alternative way to enjoy water sports without being intimidated by paddle sports' experience and equipment needs. Personal watercraft such as canoes, kayaks and paddleboards are awesome options, but there's something freeing about climbing on a hydro cycle, acclimating to the motion and feel of it, then taking right off across the water!
You steer as you do a regular bike — by the handlebars, which moves a rudder below the water surface. The wide floats (pontoons) keep you balanced, and your pedaling powers the propeller that moves you forward.
Even if you're a personal-watercraft enthusiast, hydro cycling is an entertaining diversion, and another option for Amelia National residents who're entertaining guests. Hydro cycling allows you to explore all the waterways, paddling trails and rivers near your community at the surface. The difference is you're doing it via pedal power versus paddle power.
Where to hydro cycle locally
Amelia River Cycle LLC, located in nearby Fernandina Beach, is the closest outfitter to Amelia National. Make the 10-minute drive east and find Amelia River Cycle at 3 South Front Street. Or, book your rental or experience online at the company's website. There's even hydro cycles built for two along with the classic single cycle.
Hydro cycling novices might want to chose a guided excursion the first time out. Otherwise, hop on that water bike and discover yet another method of enjoying and exploring all the natural coastal beauty that surrounds us in northeast Florida.
Just pack your sunscreen, sunglasses, hat and weather-appropriate clothing. And don't be shy about including a personal flotation device. The goal is a comfortable and fun hydro cycling outing.
Ready for your Amelia National lifestyle? Talk to ICI Homes here.