If you're searching for an exclusive Florida lifestyle, ICI Homes has the perfect setting — Amelia National Golf and Country Club. The resort-like community is nestled in the peaceful coastal forests of Nassau County, Florida's northeastern gateway, and a mere 10 minutes from one of the Sunshine State's most unspoiled beaches.
Homes at Amelia National are sited amid natural beauty, a Tom Fazio-designed golf course and sparkly ponds. Add a tennis club, impressive resort pool, fitness center and a manned 24/7 gated entrance, and your peace, quiet and entertainment is assured!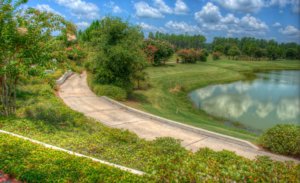 However, once you're ready to sample it, there's more fun waiting outside Amelia National. And, since convenience is another hallmark of the Amelia National lifestyle, all that fun sits at your back door.
History in Your Backyard
Those fun, funky towns are one special aspect of living in Amelia National. Historic Fernandina Beach, whose Spanish settlement dates to the late 1500s, sits on the Amelia River (yes, only 10 minutes away) and features a 50-block historic district filled with shops, art galleries and restaurants. It's the perfect spot for ice cream, a special dinner or a few hours' escape. And it has friendly ghosts! Take a tour and introduce yourself.
Local Markets in Your Backyard
They abound here, particularly in Fernandina Beach, where weekly fresh produce and art markets provide a natural Saturday-morning activity. Local markets pop up everywhere, however. Keep a lookout for new ones in the historic town of Yulee, less than 10 minutes from Amelia National, and the seafood markets at fleet outposts along the Amelia River.
Local Restaurants in Your Backyard
The dining scene at Amelia National's 19th-hole grill and bar and clubhouse, is superb. But, all those local produce markets supply a growing wealth of local, chef-owned restaurants helmed — in many cases — by innovative culinary talent. It's no exaggeration. Sample freely and organize your own pub crawl, teeing off, of course, at Amelia National's own bar.
Local Beaches in Your Backyard
They're doozies — in the absolute best way. Nineteen miles of wide, soft-white-to-light-gray sand and blue Atlantic waters. Yes, there's a surfing scene, fishing scene and plentiful lifeguards. You can even ride horses on the beach (through an approved local stable). Pack your chair, cooler, sunscreen and zip those easy 10 minutes east. When you've finish sun-soaking, take a dip in Amelia National's cool pool before you go home.
Never-Ending Festivals in Your Backyard
With such vibrant, historical surroundings, and a robust arts and tourism community, festivals, concerts and special events abound.
Two tips: summer concerts in Fernandina Beach and the Lighted Shrimp Drop there each New Year's Eve. The modern American shrimping industry began in Fernandina Beach, so the new year always opens with an appropriate icon. The Lighted Shrimp drops at 7 p.m., local time — midnight in the United Kingdom — so families can participate. Cheer the Lighted Shrimp Drop, then zip home for your New Year's dinner at Amelia National's clubhouse.
Ready for an exclusive northeast Florida lifestyle? ICI Homes is waiting with a Discovery Tour of Amelia National. Click here to begin.