As northeast Florida's premier master-planned community, Amelia National Golf & Country Club is a great place to live. Superb resident amenities headlined by a Tom Fazio-designed golf course can always tempt you to stay home. But, Amelia National is within minutes of Amelia Island and the historic harbor town of Fernandina Beach,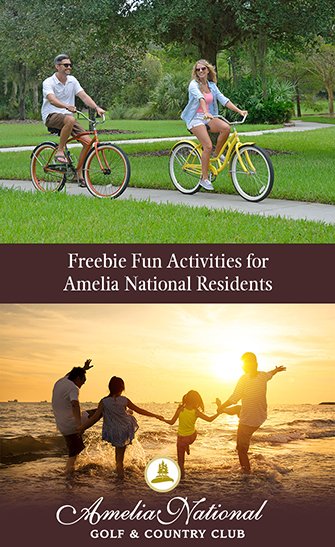 two locations that beckon with nearly endless things to enjoy — including many fun, freebie activities in one of Florida's most beautiful settings.
We detail a few below.
Sounds on Centre
Love live music? Got killer dance moves? Pack the lawn chairs and your cool shoes and head down to Fernandina Beach's Centre Street on the first Friday of each month, beginning in April.
Sounds on Centre is a free open-air concert each month through the summer season. Live bands from many musical genres keep the tunes pumping from their stage at the foot of Centre Street, and, since the street is closed in that area, concertgoers can camp out and enjoy the show.
Or participate! Sing, dance or selfie your way through a magical, musical Friday evening.
Sunset watching
We know it's awesome in your Amelia National backyard, but for a change of venue (and to wow houseguests), head for Fernandina Beach's marina. Officially it's Oasis Marinas at Fernandina Harbor, and it's very close to Centre Street.
Allow time to arrive and park, then stroll the marina's docks and admire boats of all sizes and uses. Once sunset arrives to the west, across the Amelia River, a dockside perch offers an amazing vantage point for oohing, ahh-ing and photo-taking.
Afterward, score your choice of food and drinks from one of Fernandina Beach's many celebrated restaurants and bars.
Biking
We'll assume bicycles and any other needed cycling gear are in your Amelia National garage and ready to be loaded on a vehicle or to hit the open road. Ride for miles on Amelia National's own scenic streets, or head east to explore Amelia Island on two wheels.
Follow the Amelia Island Trail seven miles south from Peters Point Beachfront Park to Amelia Island State Park. You'll see some stunning natural scenery that includes Atlantic surf. Speaking of, you also can ride on the beach — especially nice at low tide.
And don't forget Egan's Creek Greenway trails. They're more naturalized, in a picturesque 300-acre conservation setting, but easy to pedal (and hike, if you prefer).
Beaching
Also free, as in long walks on Amelia Island's gorgeous shores. There are 13 miles of direct-access beaches on Amelia Island, and Amelia National residents who're ready with basic beach gear, coolers and toys, can while away hours in the Florida sunshine.
There are more than 40 beach accesses near Fernandina Beach, plus five Nassau County beach parks to host your excursions. Finding the perfect spot to surf, swim or shell isn't difficult. Just don't forget the sunscreen!
Ready for your Amelia National lifestyle? Talk to ICI Homes here.