Need an adventure for visiting family and friends? Perhaps a fun way to explore northeast Florida? We've got it! Residents of Amelia National Golf & Country Club are within driving distance of two family farms that offer U-pick produce, event venues and seasonal celebrations.
A road trip is a great way to explore the Sunshine State, particularly if you're living here for the first time.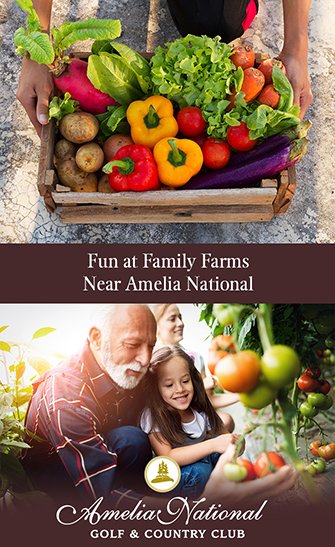 Although Amelia National residents have wonderful reasons to stay home — a Tom Fazio-designed golf course, plus a resort-level clubhouse, swimming pool, sun deck, fitness center and tennis center — road trips can be enlightening, especially when Florida's spring and summer produce seasons yield a lot of local bounty.
Various Nassau County farmers markets near Amelia National make a good introductory foray. The Fernandina Beach Market Place takes place nearby in Amelia National's historic hometown, for example, but here's where to seek some tasty fun at local family farms.
A sample for starters
Local family farms can offer a true taste of their communities. Both Conner's A-Maize-Ing Acres in Hilliard and The Blueberry Ranch in Yulee fit that description.
Both specialize in certain types of produce and visitor experiences, and both are easy to reach.
Conner's is approximately 45 minutes and 32 miles west of Amelia National. Go left on State Road 200. In Callahan, take 108 (River Road) west, then turn left on River Cut-Off Road. At the intersection of Road 121, turn left (south) and go several miles. Conner's is on your right.
The Blueberry Ranch is approximately 11 miles and 20 minutes north of Amelia National. Also head west on SR 200, then turn right (north) on U.S. Highway 17. The Blueberry Ranch is on your right.
What to expect
Conner's A-Maize-Ing Acres is a longtime family farm that pivoted from one industry to another several decades ago. It's known for amazing sunflowers and an autumnal corn maze experience that totals more than eight acres.
Annual events include Easter egg hunts, spring farm days (those sunflowers!), and a fall-harvest celebration (that corn maze!). Conner's is available for special private events (contact them for details and planning) such as school and summer-camp field trips, parties and even weddings. Farm products also are available for purchase (think eggs and farm-raised meats).
You may know of Florida's strawberry season, but blueberry season is right on its heels and equally anticipated.
Pick your own at The Blueberry Ranch, which specializes in organic produce — including the blueberries — and opens for U-pick days in May and into the summer. Fresh eggs and honey are other possibilities. Contact them via phone or their Facebook page for FAQs and other pertinent info. Or, on their Instagram page.
Certainly there are other family farms — we're spotlighting a tip of the iceberg (lettuce) here — so ask Amelia National neighbors for recommendations, or farm personnel when you visit.
Ready for your Amelia National lifestyle? Talk to ICI Homes here.