Considering a move to Florida? It's a great choice. The warm year-round climate, natural beauty and outdoor recreation options are popular motives, but if you haven't spent much time here, you may not know autumn is one of the best reasons to become a resident —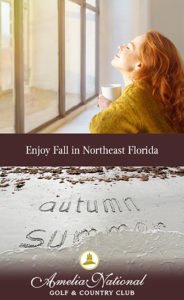 especially when you buy or build a new custom Florida home at Amelia National Golf & Country Club.
Located in Fernandina Beach, Amelia National is one of ICI Homes' signature master-planned communities. It's tucked into a scenic corner of northeast Florida, only 10 minutes from Amelia Island's beaches, and features private, gated environs and unparalleled amenities.
Autumn is the perfect season to tackle Amelia National's Tom Fazio-authored golf course, its resort-style swimming pool, fitness center, tennis center and the social and dining scenes at the French Provincial clubhouse.
And, because Amelia National is convenient to Interstate 95 — Florida's north-south artery — and only 30 minutes north of metro Jacksonville, there's no shortage of autumn activities elsewhere.
Here are our suggestions for enjoying fall in northeast Florida.
Quieter and less crowded
Amelia National's hometown of Fernandina Beach and Amelia Island have long been one of Florida's top destinations. Visitors and surrounding residents flock to Fernandina Beach's hopping, historic downtown and harbor, and nearby Atlantic beaches throughout the spring and summer for festivals, annual events and community activities.
But once it's back-to-school time and vacation season tapers off, so do crowds. Autumn is a sublime time to snag a table at your favorite Fernandina Beach café, go shelling, or play that extra round on Amelia National's golf course.
It's also the choicest time for prospective residents to sample Amelia National. Book a VIP Tour to see why.
Speaking of…
Fall in northeast Florida brings refreshing weather
As summer heat wanes, warm days and refreshing nights become the norm in northeast Florida, where the seasons are a bit more pronounced than further south.
This means occasional long sleeves, but the Atlantic surf remains pleasant for swimming and boating goes on year round. Amelia National residents also see autumnal color in trees and other coastal foliage — flowering ornamental grasses are spectacular here.
And, while we love our cooling summer showers, we also love our seasonal respite from them!
Fun fall activities
Are you moving to Florida from another part of North America where hay rides, pumpkin patches and fall festivals are de rigor? You can enjoy all those activities at various locales near Amelia National.
Once you're home, anticipate seasonal dining delights at the clubhouse. Ignite backyard grills for marshmallow roasts.
Another perk of fall in northeast Florida is football! The NFL's Jacksonville Jaguars are a quick drive and tailgate south. During one annual autumn weekend, the Jaguars' stadium also hosts one of college football's biggest rivalries — the University of Florida versus the University of Georgia in a Southeastern Conference showdown known as the "World's Largest Outdoor Cocktail Party."
Ready for your Amelia National lifestyle? Talk to ICI Homes here.