One of the perks about living at Amelia National Golf & Country Club is its beautiful northeast Florida location.
It's incredibly convenient — only a half-hour north of metro Jacksonville and minutes east of Interstate 95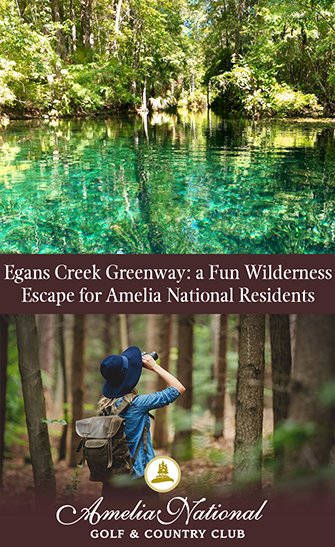 — but it's also minutes west of Amelia Island's Atlantic beaches and surrounded by other natural landscapes worth exploring.
One of the latter is Egans Creek Greenway. The Greenway is a 300-acre tract preserved as a passive park, with miles of grassy trails, jaw-dropping scenery and wildlife sightings galore. It's part of the city of Fernandina Beach's parks and recreation department (Fernandina Beach is Amelia National's hometown).
But, if you're expecting a typical public-park experience, prepare to be wowed. Egans Creek Greenway provides just enough user comforts to welcome visitors, then allows them to explore a magnificent coastal habitat without all the expected noise and infrastructure.
Keep reading for more on why Egans Creek Greenway is a fun wilderness escape for Amelia National residents.
Where to find the Greenway
It's mere minutes from Amelia National, so no need to plan for a long journey, although do pack some water, snacks and sunscreen.
Head east on State Road 200 toward the historic town of Fernandina Beach and Amelia Island. Cross the Atlantic Intracoastal Waterway (the Amelia River). As you near the heart of Fernandina Beach, you have several choices. Two are listed below.
Turn right on Jasmine Street. Travel east a short distance and look for the Greenway's southern trailhead to your left. Hint: it's between Citrona Drive and Fletcher Avenue. You can park on the side of Jasmine Street in order to access the trailhead.
If it's your first visit to the Greenway, its "main entrance" might be a better option. Continue on S.R. 200 past Fernandina Beach's historic district as if you're headed to the beaches. Look for the city's Atlantic Recreation Center at 2500 Atlantic Avenue.
Park in the Center's parking lot. The entrance to the Greenway is behind it, at the Nature Pavilion, where restrooms also are located.
How to enjoy the Greenway
The Egans Creek Greenway runs north-south along its namesake waterway. Perhaps the most surprising aspect is that this lovely mini-wildness is wedged between Fernandina Beach residential and commercial areas — a high school and middle school are west of Egan Creek, off Citrona Drive — and popular Amelia Island beach accesses.
Walk, hike or cycle miles of its grassy trails. The creek is never far away, and you'll pass marshes, coastal forests and hammocks (raised areas of dry ground surrounded by wetlands).
Often you'll hear only wind rustling trees, palms and grasses, or croaking frogs and chirping birds. Speaking of, bring the binoculars if you're a birdwatcher. You won't be disappointed.
Expect to see many different kinds of wildlife, from birds to lizards to turtles, and always enjoy those sightings from a safe distance.
Ready for your Amelia National lifestyle? Talk to ICI Homes here.