No matter where you live in Florida, you're never far from a beach. It's a major reason people move here, and Amelia National Golf & Country Club residents know this perk well. But, did you know Fido can accompany you in this slice of northeast Florida?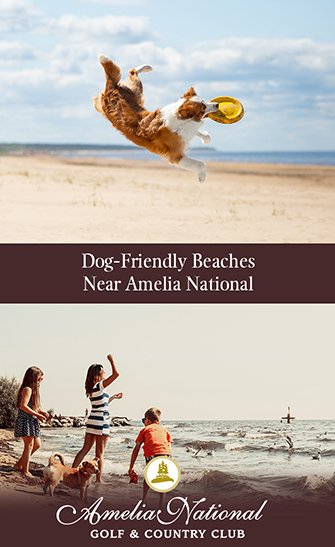 Sure can! Amelia National residents are 30 minutes — max — from neighboring Amelia Island, where you'll find many dog-friendly beaches.
It's just one more reason to buy your new custom Florida home at Amelia National. Already the area's top master-planned community, Amelia National is one of ICI Homes' signature properties and its Tom Fazio-designed golf course, tennis center, French provincial clubhouse, fitness center, resort-style swimming pool and sun deck, and avid dining and social scenes also provide the area's top resident amenities.
So, if you have a pooch, or want to add one to your household once you're an Amelia National resident, know that they can enjoy beach trips with you.
Read on for information on our local dog-friendly beaches, and tips for planning your visit, below.
Start here
When it's time to explore Amelia National's historic hometown of Fernandina Beach and lovely Amelia Island, pack Fido's gear too. Many places around town and on the island welcome dogs, but we'll coach you up on taking doggie beach trips first.
Want more good news? There are more than 40 public beach accesses in Fernandina Beach, and Nassau County contributes five more in various places throughout Amelia Island. Just head east on State Road 200 and follow signage or GPS to the beach of your choice. Amelia National residents can claim some of Florida's prettiest, most accessible and unspoiled beaches as their own, daily.
Perhaps the best first stop with Fido is the city of Fernandina Beach's Main Beach Park, which offers all the surf-side amenities, parking and activities you could want for a fun experience. Main Beach even serves up a dispenser for canine trash bags. What more do you need?
Dos and don'ts for dog-friendly beaches
IMPORTANT: no dogs are permitted on Amelia Island beaches within Florida state parks. This includes Fort Clinch State Park at the north end, Fernandina Plaza Historic State Park mid-island, and Amelia Island State Park at the south end. Leashed pups are welcome at all three; just not on beaches. Check those parks' websites for particulars.
Dogs also must be leashed at all dog-friendly beaches on Amelia Island. Don't forget Fido's.
Another vital item is your pooper-scooper. It's essential everywhere Fido accompanies you, but especially at the beach, among folks strolling and splashing barefoot.
More essentials: doggie treats, food and plenty of water. Fido's fuel and hydration — particularly on hot summer beach days — are as important as yours. Another tip: beach umbrellas or tents should be big enough to shade Fido too. An extra beach towel will be helpful for drying purposes, and to offer your pooch a comfy place to flop on the sand.
Ready for your Amelia National lifestyle? Talk to ICI Homes here.