Seeking a new custom Florida home in the northeast corner of the state? You won't do better than Amelia National Golf & Country Club, and you won't find a better way to explore it than via a Discovery Tour.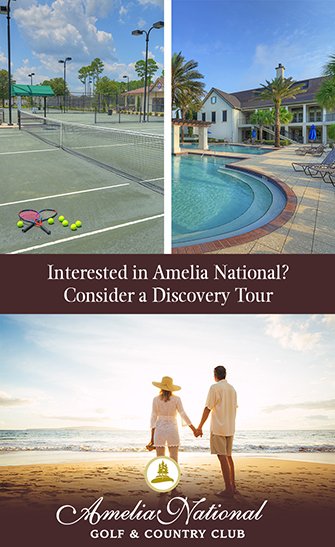 It's located north of Jacksonville, in Fernandina Beach, and only 10 minutes west of Amelia Island, one of Florida's most popular destinations.
If you're not familiar, a Discovery Tour is an in-person stay at the master-planned community where you're thinking of building or buying a home. It allows prospective residents to act like real residents for several days and nights (a three day, two night stay is what you get with an Amelia National Discovery Tour!) Plus, you can explore where you and your family would shop, work, attend school, and pursue other activities if you lived here.
Amelia National is included in the "Best Coastal Communities" category of ideal Living magazine's "Best of the Best 2020 Community Awards." Ideal Living focuses on the master-planned community lifestyle and readers targeting a dream or retirement home, or vacation getaway.
In fact, 90 percent of respondents in a survey conducted during the magazine's live Winter 2020 shows in northeast, midwest and mid-Atlantic population centers, said they intended to use discovery travel to experience the communities where they might want to relocate.
Read on for why you should consider a Discovery Tour to Amelia National.
First, get on our waiting list
As of this writing, ICI Homes' Discovery Tours are on hold due to a global health crisis. We can't host you just yet, but we're working hard behind the scenes to resume Discovery Tours the moment we're cleared to do so.
These popular experiences fill up fast. Click here to join the waiting list for a Discovery Tour at Amelia National.
In the interim, prepare for your visit by mining all the resources available on our website, and at ICI Homes' website. The latter is where you'll find plenty of virtual browsing tools such as 3D interactive tours and guided video tours.
What to expect on a Discovery Tour
Your three-day, two-night stay will allow you to be an honorary Amelia National resident.
Play golf on our Tom Fazio-designed course. Enjoy the social and dining scenes at our French Provincial clubhouse, where you'll also find a resort-style swimming pool and fitness center. Next door is an eight-court tennis center.
Best of all? You'll stay in a real ICI home inside of Amelia National, not a nearby hotel. Our on-site accommodations help you spend as much time as you like inside the community's gated environs, even experiencing it during morning walks or runs, or sunset strolls.
You'll tour the community and learn about its history, plus visit furnished model homes and inventory homes that might be a surprise fit for your and your household.
And don't miss exploring Amelia National's fun, historic hometown of Fernandina Beach, where unique dining, shopping and entertainment choices abound.
Ready for your Amelia National lifestyle? Talk to ICI Homes here.