When you're searching for a new custom Florida home in northeast Florida— or thinking about it — considering interior-design options can be overwhelming.
Most of us aren't interior designers. Some of us haven't bought a new home in a while,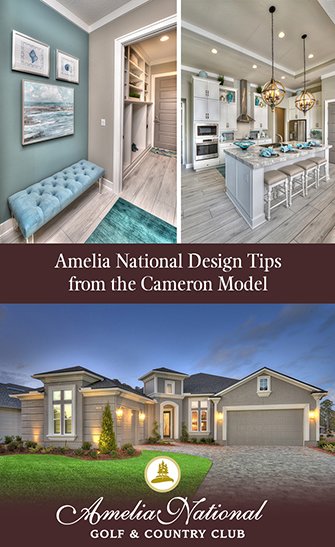 let alone had one built. But we at ICI Homes have a solution — our gated, master-planned community of Amelia National Golf & Country Club in Fernandina Beach. It's a mere half hour north of Jacksonville, 10 minutes west of pristine Amelia Island beaches, and it offers top-shelf resident amenities.
Also located at Amelia National is our Cameron model home — a masterclass in timeless interior design that's waiting to inspire your new-home search. But don't just take it from us. The Cameron was honored with a Silver Award at the 2021 Northeast Florida Parade of Homes.
Inside and out, the Cameron model at Amelia National reflects its coastal setting. You won't find cutesy excess or impossible-to-duplicate elements here. Only an effortless flow of space and atmosphere.
If you're interested in a home in this part of Florida with its natural beauty and recreational opportunities, plenty of design inspiration awaits at Amelia National's Cameron model.
Allow us to highlight two tips you can incorporate in your new custom Florida home.
Light-filled interiors
Florida is known as the Sunshine State. Wonderful natural light abounds here year round, highlighted by sunrises, sunsets and the spectacle of summer thunderstorms.
The Cameron acknowledges this with numerous windows and sliding glass doors that permit sunshine and exterior light throughout the day.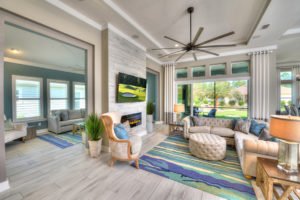 At night, drapes and shades ensure privacy.
And there's no need to worry about heat and solar blasts fading furnishings and finishes. Every ICI Homes new home is an EQ Factor home, which means top-notch building materials and techniques that promote energy efficiency and quality construction.
The Cameron's impact-resistant windows are part of that mandate. They repel heat and damaging solar rays, filtering only beneficial brightness. This strategy also can help lower power bills.
Be sure you don't miss the Cameron's sunroom. It shares a half wall and a fireplace with an adjoining living area and is a signature of the Cameron's open floor plan.
Coastal colors
Bright tropical colors may be what many people imagine as Floridian interior design — and those can be fun in small doses — but think again of nature's colors.
Northeast Florida flora and fauna displays innumerable shades of blue, green, brown, silvery, watery grays, and warm sandy vanillas.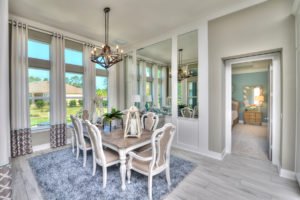 The Cameron offers similar soothing neutrals on its walls, with featured accents here and there, and pops of color in furniture and decor.
These natural colors and their variations tie the Cameron's rooms and open floor plan together. Visitors aren't jarred by loud colors room-to-room, but tend to delight in a denim-and-aqua-striped wall in a bedroom, or a fluffy blue rug in the dining area.
Our advice? Save those flamingo pinks and hibiscus yellows for dramatic flourishes in a laundry room, where they brighten chores!
Ready for your Amelia National lifestyle? Talk to us here.