If you're an Amelia National Golf & Country Club resident AND a car aficionado, it's time to rejoice. Concours Week is almost here! The 2021 Amelia Island Concours D'Elegance, scheduled for May 20-23, is northeast Florida's premier event for automotive history buffs.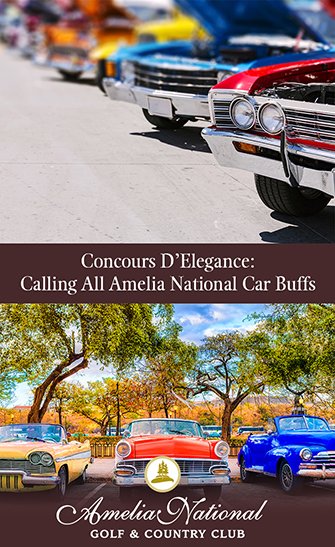 It features stunning vehicles from multiple eras and disciplines, fun events, and opportunities to interact with famous racing personalities.
"Concours" as it's sometimes known, is one of the signature happenings near Amelia National's hometown of Fernandina Beach. Amelia National residents are only 10 minutes from the Concours festivities, so clear the calendar and charge the phone for photos.
Here's a quick and easy guide to enjoying Concours Week — and beyond.
What it is
If you're an Amelia National resident, you probably know what a big deal this is. If you're considering a new custom Florida home at our amazing master-planned community, Concours Week may be another reason to move here!
It traditionally occurs in March, although the 2021 edition — the 26th annual Amelia Island Concours D'Elegance — is happening in May as we emerge from a global health crisis.
From Thursday, May 20 and through Sunday, May 23, daily schedules include auctions, dinners, test drives and even driving experiences at the Fernandina Municipal Airport. Plus, plenty of swag to purchase, hundreds of sleek vehicles to admire, and seminars, coffees and dinners.
Sunday is the big day for judging exhibit classes and awarding prizes. Many famous racing and automotive celebrities also are on the exhibit field at the Golf Club of Amelia Island.
Note: some events require tickets and some are sold out. Check the website for specifics. But there are ways to enjoy Concours Week without tickets and at the last minute.
Don't miss these free events
On Friday, the Eight Flags Road Tour features unique and historic vehicles motoring around the Amelia Island environs. They'll arrive in downtown Fernandina Beach for an impromptu public exhibition from 10 a.m., until 2 p.m.
On Saturday, the Concours d'Lemons — another free public exhibition — takes place at Main Beach Park on Amelia Island. It's a laugh-out-loud selection of decidedly non-Concours vehicles. Think AMC Pacers with window curtains (google it) and Pinto station wagons. Enjoy all the "lemons" from 8 a.m., until 1:30 p.m.
Other Florida automotive venues
Can't attend Concours Week? Mark your calendar for the 2022 edition. Then, enjoy these experiences within easy driving distance of Amelia National.
The Brumos Collection in Jacksonville catalogues the extraordinary accomplishments of one of sports car racing's legendary teams.
 Daily tours of historic Daytona International Speedway, all of which end at the Motorsports Hall of Fame of America on the DIS campus.
 The Revs Institute in Naples is worth a weekend trip to the southwest Gulf coast, where more than 100 priceless racers are exhibited, and one of the world's preeminent automotive archives is available.
Ready for your Amelia National lifestyle? Talk to ICI Homes here.