Thanks to the combination of location, natural beauty, and climate, Amelia National Golf & Country Club residents can enjoy outdoor dining nearly every day.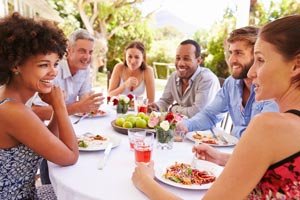 It's easy to savor a home-grilled burger on your own lanai. But when you're ready to explore other options, Amelia National is perfectly positioned. One of ICI Homes' signature properties, this master-planned community is located only minutes west of Amelia Island and its historic hometown of Fernandina Beach.
And, with the surrounding rivers, creeks, and the Atlantic Ocean, you won't have trouble finding a tasty establishment that maximizes its coastal setting.
Here are a few places where Amelia National residents can dine with a view.
Home is where the yum is
Your new custom Florida home at Amelia National likely is your first choice for dining with a view — and should be!
This is especially true with Amelia National's setting amid northeast Florida coastal forests and ponds, and the gorgeous Tom Fazio-designed golf course that winds through the community.
Then there's the French Provincial clubhouse, which hosts a lively social and dining scene in spacious surroundings inside and out. Special events and chef's specials are frequent offerings along with a quick sandwich and snack pre- or post-round on Amelia National's golf course.
But when a road trip sounds like fun….
Sample these suggestions
As you might guess, scenic locations abound with Atlantic beaches, the Amelia River, and picturesque downtown Fernandina Beach. Although seafood is a major draw, bar food, regional specialties, and nourishing comfort food can be had too. Start your sampling with the list below.
Down Under and Kitchen 251 — these establishments are just east of Amelia National, off State Road 200, and tucked near the bridge over Kingsley Creek. Down Under is a longtime local seafood restaurant on the west bank. Kitchen 251 features Creole cuisine and is located on the east bank, in the Amelia Island Marina. Each restaurant offers amazing watery views.
Salty Pelican Bar and Grill and Brett's Waterway Cafe — these restaurants are located in downtown Fernandina Beach. Both maximize views of the city's marina off Centre Street. Brett's Waterway Cafe is literally on the waterway (the Amelia River) with its South Front Street perch. Indoor dining is available but grab your repast outside on the covered porch in time for stunning sunset views. The Salty Pelican, on North Front Street, offers similar harbor-and-sunset views from a different vantage point. Casual seafood and other favorites can be enjoyed at both locales.
Salt Life Food Shack, The Sandbar, and Sunrise Cafe — all are on Amelia Island's beaches, featuring views of pristine sand, Atlantic surf, and beachgoers. Sunrise Cafe is the go-to for breakfast at the beach. The Sandbar and Salt Life are popular places to chow down before or after a day at the beach. Both offer outdoor dining and bar options, with creative cuisine and libations.
Ready for your Amelia National lifestyle? Talk to ICI Homes here.