Residents of Amelia National Golf & Country Club not only live in northeast Florida's premier master-planned community — they also live in one of the state's most historic areas.
Many significant events happened in Amelia National's hometown of Fernandina Beach and on Amelia Island through the centuries,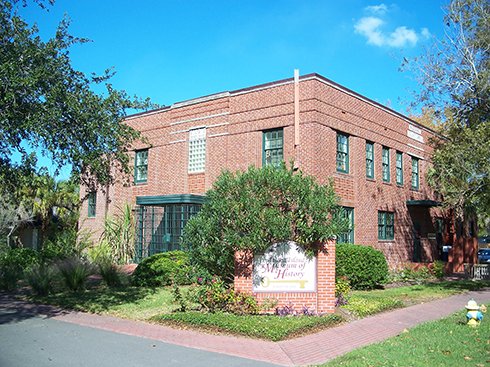 and many local historic sites are still in use. But one hidden jewel is the old Nassau County jail, which today is home to the Amelia Island Museum of History.
This museum is a great place to start for new Amelia National residents and those looking for ways to learn about their new town and its history. It's also a great resource when you're entertaining friends, family or houseguests.
How, exactly? Here's the scoop on lunches and lectures at the Amelia Island Museum of History.
It's easy to find
The Amelia Island Museum of History is located at 233 South Third Street in the heart of historic Fernandina Beach. Its home — the circa-1938, red-brick former Nassau County jail — represents history too. A jail has stood on the site since the 19th century.
You have to dial back a lot of centuries to absorb all the formative events that took place in this part of northeast Florida. The innumerable peoples, countries and legacies are perhaps best embodied in Amelia Island's tagline of "Isle of Eight Flags," thanks to the number of entities that claimed the area. First inhabited by native Timucuans, Amelia Island's European era began with French explorers in the mid-1500s.
We'll let you discover the rest of the story!
What you'll find
The Amelia Island Museum of History offers numerous permanent and traveling exhibits detailing aspects of the island's and Fernandina Beach's history. Artifacts, infographics, narrative signage and interactive features like a reproduction ship that would've sailed down the Amelia River centuries ago, will keep you enthralled. You'll even see one of the building's restored old jail cells.
But what sets the Amelia Island Museum of History apart is its mission as the state's first spoken-history museum. Trained docents, guides and volunteers take visitors on a storytelling journey through the museum's exhibits.
The audio learning doesn't end there.
Lunches, lectures and walking tours
If you're thinking one visit will be enough, think again. The Amelia Island Museum of History offers a free lecture during a brown-bag lunch session on the first Wednesday of each month. Pack your sandwich and make history your dessert.
On the third Friday of each month, attend a lecture with accompanying beverages and munchies at 6 p.m. It's free if you're a museum member and costs only $5 for non-members.
There's also a schedule of children's summer camps, internships opportunities and school field trips available year-round. Looking for an immersive experience? The Amelia Island Museum of History also offers four walking tours, a pub crawl and, of course, a ghost tour.
Ready for your Amelia National lifestyle? Talk to ICI Homes here.
Image credit: Ebyabe, CC BY-SA 3.0 <https://creativecommons.org/licenses/by-sa/3.0>, via Wikimedia Commons