When you live in a beautiful locale like Amelia National Golf & Country Club, odds are you'll have visitors or house-guests.
Hopefully those family members and friends will inquire first. It's never a good idea to show up requesting room and board, or presuming you can. Amelia National residents do have an edge,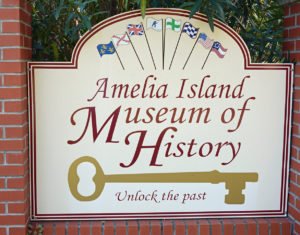 however: all visitors must stop at the gated entrance!
But let's assume you welcome those visitors. Since you live in one of the most desirable areas of northeast Florida, you won't lack for ways to entertain them. Certainly Amelia National's own amazing amenities are available — the Tom Fazio-designed golf course, the tennis center, a resort-style swimming pool and active social scene at Amelia National's striking French Provincial clubhouse.
Sometimes, lounging in your own outdoor living space can be just as fun. But what if those Florida showers dampen your guests' days? Send them to Amelia Island's museums.
There's whole, big island out there
Amelia National's five-star location puts it only 30 minutes north of metro Jacksonville, and only 10 minutes from Amelia Island. The island's Atlantic beaches, state parks, arts, cultural and dining enclaves assure that visitors and residents alike should never be bored. Just know you and yours are only the latest to enjoy it.
Amelia Island's first residents likely were native Timucuan tribes thousands of years ago. Many colonial and North American conflicts have since touched its shores, where flags from eight European and North American countries and ruling entities have flown. In fact, you're guaranteed to find a historic property or two. And not just in Amelia Island. In Amelia National Golf and Country Club's hometown, Fernandina Beach boasts late 19th- and early 20th-century charm that is evident in architecture everywhere.
There's no shortage of museums either. Start with the flagship installation below whenever the weather chases you and your visitors indoors.
Amelia Island Museum of History
You'll find this at 233 South Third Street in Fernandina Beach. It occupies the old Nassau County jail — an exhibit in itself. It features numerous permanent exhibits packed inside its brick walls, including a restored jail cell.
Topics range from noteworthy people in the history of Nassau County, to Spanish missions, the arrival of the railroad, and many others. Children can enjoy a hands-on ship exhibit and docents are available to lead museum tours.
Storytelling is important to the museum's mission, so visitors can pick from several different tours, including a ghost tour, pub crawl, walking tours, a holiday home tour and student tours. Just ask for more info.
The Amelia Island Museum of History also partners with the city to oversee the Maritime Welcome Center & Shrimping Museum. It's a good starting point for anyone unfamiliar with the island, but also provides a thorough primer on the importance of the local shrimping industry.
Ready for your Amelia National lifestyle? Talk to us here.